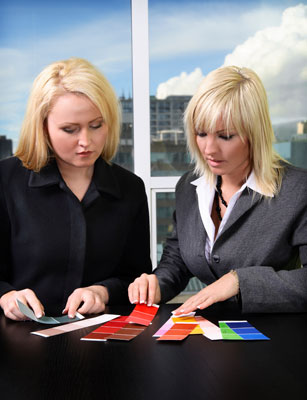 I get approximately 5 calls a week from aspiring home stagers interested in job shadowing me for a day.
These potential home staging interns don't fully understand what they're asking, from the business owner's viewpoint.
I have yet to agree to let anyone shadow me.
If you're trying to find a successful home stager to shadow before you start your own business, you're not making the best use of your time.
In this article I'll explain why.
There are many reasons home stagers are reluctant to agree to job shadowing.
First of all, they would have to screen job shadowing candidates beforehand because that person would be a direct reflection on their own home staging business reputation.
This means they would have to meet the candidate ahead of time for a pre-screen.
Then they'd have to try to coordinate times to meet at the client's staging consultation, and for a home staging day if the project calls for it.
This is very time consuming for a small business owner who would be gaining little out of this job shadowing arrangement.
Also, the fact that someone in their market wants their help in entering that same market isn't very attractive.
Why would they want to give a behind-the-scenes look to their future home staging competition of how they operate their staging business?
I'm sure if you're looking to shadow someone, there's no malicious intent there.
You're probably suffering from a lack of confidence more than anything. Thinking it would be a lot less scary if you could follow someone around and see what it's really like being a home stager.
What most people don't realize that what you do when you get to a client's house is the easiest part of operating a home staging business.
What you do once you're there has everything to do with the natural talent you already possess.
The more challenging part of running a successful home staging business is figuring out how to get clients and how to get paid for your time. Not how to decorate.
Nobody you job shadow is going to teach you the inside workings of how they really run their business and make money.
That's why I created the Staging Diva Home Staging Business Training Program, to teach you the nuts and bolts of starting a home staging business.
It's valuable information and nobody is going to give it away to you for free.
A better way to see if you have the talent to be a home stager
Remember, if you're considering starting a home staging business, you must already have the talent.
Since I'm betting nobody is going to want you to job shadow them, a better way to gain confidence that you will be able to do this is to go around to open houses on the weekends.
You don't have to say anything when you're there. You don't even necessarily need to introduce yourself.
Just walk through and pretend you're in a client's house for a home staging consultation. Imagine what you would be recommending for different rooms.
The more houses you go into, the more comfortable you'll become.
Go around to other cities to get a feel for real estate prices and different types of properties.
Every house you go into, you'll learn something new.
You'll encounter all kinds of "don'ts" that you can figure out how to correct.
You will never encounter a house that is completely perfect. That will help you realize that there's always something to be done.
If you're feeling very nervous about your first home staging consultation, consider ordering Course 3 of the Staging Diva Program.
It's the one where you learn how to conduct yourself at consultations including what to wear and what to bring. It takes the mystery out of home staging consultations.
Home stagers, did you spend time touring open houses before you started your home staging business?
Did you use it as a tool to ease your anxiety? Did you spend time shadowing other stagers or do you allow others to shadow you on the job?
Please share your experiences by leaving a comment below.