In a blog post last week, I asked how you would handle a home staging consultation in the home office shown here.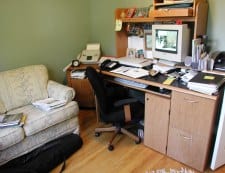 Lots of houses you'll encounter throughout your home staging career will have offices like this where furniture, equipment and papers are kind of crammed into whatever space in the home isn't being used for something else.
The office here certainly wouldn't do much to woo a potential buyer who really depends on a home office to operate a business. The goal for a home office should be to give you a feeling of order and calmness so you can sit down and work! When you're surrounded physically by clutter, your mind is cluttered too.
Thanks to those of you who took the time to offer your recommendations on the original post! The following is my complete list of recommendations for this cramped home office:
Depersonalize
The home office is probably the most important space in a home to depersonalize. Not only do you need to take down family photos and diplomas which give away too many clues about a family for someone with bad intentions, but you also need to remove all personal files for privacy reasons. It wouldn't take someone long to flip through a couple of bills and get enough information to steal a homeowner's identity. (Read more here about keeping your clients' safe.)
Change and Rearrange Furniture
It's nice to have a seating area in a home office but this corner looks really crowded. I would replace the love seat with a chair and I'd move it to the left to allow for more 'breathing room' around the desk. If space allows, create a nice reading corner with the chair by putting a standing floor lamp behind it and a small table beside it.
Several readers of my original post suggested that they consider replacing the outdated computer monitor with a sleek flat screen model and to take out the old fax machine, replacing it with a more modern all-in-one model. In the ideal world, I agree!
But in a home staging situation, I would never ask a home seller to disrupt his/her work flow to that extent. Listing and selling a home is stressful enough, especially if you work from home. Trying to research the right new computer equipment to purchase and then get it all set up while running a business and trying to sell a home, would be enough to push most people totally over the edge. This is a good example of the need to balance what we'd like to see as home stagers, with what we think a client might be reasonably able to cope with. I wrote more about this in Home Staging Recommendations Often Require Trade Offs.
De-clutter
Get rid of all visual clutter from the top of the desk, the shelves above desk and the floor. There's only a small part of the rug showing in this photo but always consider removing area rugs from small rooms when the floor is in good condition. Rugs often make floor space appear smaller.
A few stagers commented on my original post asking for ideas that they would remove the shelf that's on top of the desk. I think that's a great idea if the home seller can live without it, replacing it with a piece of art on the wall. If it's kept however, all the clutter on it needs to be removed because it really does emphasize the relative lack of space in this room.
Accessories
I would hang a nice piece of art suitable for home staging on the wall above where the love seat appears now or hang a mirror in an attractive frame. A mirror will visually expand the space and it would also reflect more light into the room.
For more home office staging advice get yourself a copy of the Staging Diva Ultimate Design Guide: Home Staging Tips, Tricks and Floor Plans. It's chock full of home staging advice and sample before and after photos, all from my own home staging projects.
Home stagers, is there anything I've missed that you would recommend for this home office?
Debra Gould, The Staging Diva®
President, Six Elements Inc. Home Staging
Debra Gould knows how to make money as a home stager. She developed the Staging Diva Home Staging Business Training Program to teach others how to earn a living doing something they love and she continues to develop ebooks and other home staging resources to help stagers on their path to success.