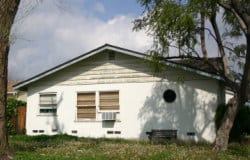 How to stage a house with no obvious good features, and embrace the challenge while you're doing it, is something many home stagers worry about.
In the hundreds of homes I've staged, I have yet to see a house that has absolutely no redeeming qualities. And, I've been in many real estate properties where it was a challenge to find the good features!
If you're worried about what to do if you find yourself in a home like that, first of all, remember the current owners decided to make that home theirs at some point.
So you have to assume there are at least a few good things about the property and it's your job to find them.
As a professional home stager it will be your job to make sure the home's good points shine and that the buyer doesn't have the same reaction walking in that you initially did (that there is nothing good about the place).
How far you go to accomplish this transformation will depend primarily on the price point of the home.
For example, in a more expensive home when the furniture is dated, unattractive (or simply too cheap looking to belong in a home of that price range), you might store it off-site and bring in new rental items.
But in a less expensive home that might not be a feasible option, so you'll have to be creative.
If the furniture is very bad, slip covers might work. If it's wooden furniture you're working with, you might be able to paint it or have hardware replaced to give it an updated look and a new lease on life. Read my staging solutions for a blah living room and add yours!
Think about all those magazine articles and TV shows about the transformation of "flea market finds." Well, you'll be doing the same thing only with something you find in your client's home, rather than something you're buying at a flea market.
Rather than feeling deflated by a real estate property that has no immediately obvious qualities, embrace it as a creative challenge.
After all you decided to become a home stager because you have a creative eye for seeing possibilities. These ugly homes with ugly contents, and boring cookie cutter properties are just your chance to stretch your talents.
You can always do something to improve the look of any room!
Consider fresh flowers for the kitchen, new towels and a shower curtain in the bathroom, accent pillows in the living room, a new "bed in a bag" for the bedroom, art and accessories throughout the home to create islands of beauty.
All these serve to distract a potential buyer from the worn furniture, boring architecture or less than ideal room dimensions.
However, if these things aren't in your budget and you literally have no choice but to work with what you have in front of you, often rearranging the items in the house will make a great improvement after a good cleaning and de-cluttering.
When you have the power to help someone in a home like this to make more money on the sale of their real estate property, you could be making more of a difference in someone's life than you know.
These types of staging projects are often the most rewarding.
If you're thinking of starting a home staging business and are nervous that you won't know what to do in a situation like this, check out the Staging Diva Ultimate Design Guide: Home Staging Tips Tricks and Floor Plans. It will help you stage any room in any home, plus give you many ideas for creating curb appeal without spending much (if any) money.
How do you stage a house you don't like?
Home stagers, have you ever found yourself in a home that you initially thought had no redeeming qualities? Please share your experiences by leaving a comment below!
Debra Gould, The Staging Diva®
President, Six Elements Home Staging
Debra Gould knows how to make money as a home stager and she developed the Staging Diva Home Staging Business Training Program to teach others how to earn a living doing something they love while helping others at the same time.