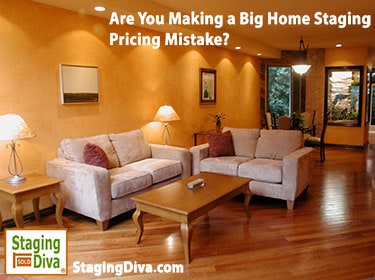 Many home stagers make a mistake that forever impacts their ability to make a great living. They quote their home staging pricing by the room or by the square foot.
I don't recommend this because there are many factors that will influence how long the project takes.
My advice here applies whether you're "just" doing a home staging consultation, rearranging what's there, or if you're actually putting new furniture and accessories in place.
When I say that there are many factors that will influence how long the home staging project takes, even more important to note is that you won't have any control over many of these factors.
Call me a control freak. Watching my profits get eaten up by something I have no control over is something I avoid like the plague!
Plus, you may not know of most of these time-sucking factors until your into the home staging project.
Wrong Home Staging Pricing Undercuts Profits
Clearly if you've quoted a flat fee per room or square foot in advance, this means you can really undercut the amount you would have charged had you realized all the factors that were involved in advance.
Things that will influence the time it takes to complete home staging a room or even a house, that aren't in your control, and use up your precious time:
How much the client likes to talk (some will tell you the history of every piece of furniture and why they love it)
Whether the client is busy attending to ringing phones and screaming toddlers while you're trying to meet with them
Whether they reschedule your appointment a number of times (leaving you with empty spaces in your calendar that now can't be filled)
Whether they do what they say they will to prepare for your part (for example, you arrive with all the furniture only to find that the cleaning team hasn't been through yet and there's drywall dust everywhere)
Whether the client changes their mind
Whether you're stuck there waiting for furniture to arrive
Whether the house is so filled with clutter it looks like it belongs on one of those Oprah episodes about obsessive hoarders
How big the room or the house is and how much needs to be done (I've had 3,000 sq ft homes that take less time than 1,000 sq ft condos)
My goal isn't to sound negative, I believe home staging is one of the best careers out there for creative people who enjoy decorating and have an interest in real estate.
Plus home staging can be a very lucrative career when you have the right business model. In fact, in most cases it pays way more than being a real estate agent or interior designer.
I just want to point out the many things that can happen in the real world that you won't be able to anticipate if you're quoting a rate upfront of $x dollars per room, per square foot or per house. I don't want you to fall into the trap of making this all too common home staging pricing mistake!
This is only one aspect of determining the correct pricing strategy. A topic I cover at length in course 2 of the Staging Diva Home Staging Training Program. The bottom line is that if you don't get your pricing right, you can't make a living and I'm all about doing what you love AND making a nice living doing it!

Home Staging expert Debra Gould also known as The Staging Diva is president of Six Elements, a leading home staging company that provides free information to raise the standards in the industry and build awareness amongst homeowners and their real estate agents about the benefits of decorating a house to sell. Debra Gould developed The Staging Diva Program to create opportunities for others to grow their own profitable home staging, real estate enhancement businesses.
Learn more about the Staging Diva Home Staging Training Program