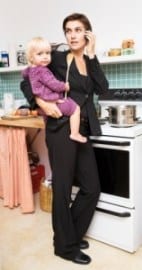 Through a series of blog posts, I will be highlighting the different client types you are likely to encounter at your home staging consultations. The goal is to show you why charging a flat rate in these scenarios can drastically limit your home staging business profits.
I will start with a classic – The Distracted Client.
It has happened to me more times than I could ever count in the many years I've been staging homes. I walk into a home and am greeted by someone with a phone to their ear, smiling and gesturing for me to come in while they finish up the first of many calls they will take during our home staging consultation.
Just as we start to make some headway, we're interrupted by yet another ringing phone or a barking dog, or a child screaming for a snack or because her big brother pulled her hair.
When you're dealing with The Distracted Client you have to wonder why someone would invest in a consultation of any kind when they don't seem to have the presence of mind (or "free time") to make it worth their while.
A home staging consultation like this can take you twice as long as you initially expected, and this is a common scenario! If you're charging a flat rate for your consultations without having factored in this type of situation, you will be undercutting your home staging profits time and time again.
This is only one example of a client type that will make you wish you hadn't quoted a flat rate!
Have you ever been stuck trying to do a home staging or redesign consultation with a Distracted Client? Please share in the comments below.
The next installment in this series will cover a personal favorite of mine; The Chatty Client.
Debra Gould, The Staging Diva®
President, Six Elements Home Staging
Internationally recognized home staging expert Debra Gould is president of Six Elements and creator of The Staging Diva Home Staging Business Training Program, which teaches a blueprint for making money as a home stager.  Debra also offers a Directory of Home Stagers to help homeowners and real estate agents locate home stagers who will decorate homes to sell quickly and for top dollar.