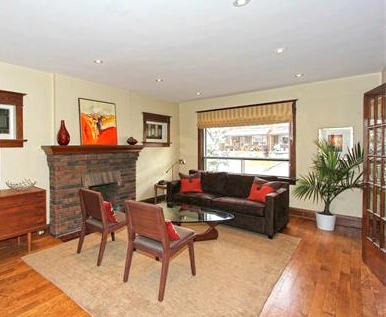 Recently I posed a staging business dilemma from Leah Fritz of Perfect Place Home Staging about whether it's OK to use before and after photos for your staging portfolio when you didn't physically do the work.
(By the way, this photo is from a living room of a house I only did a home staging consultation for.)
In Leah's case, the client staged her home herself based on all the advice Leah provided during a home staging consultation.
There were great comments from home stagers in the Staging Diva community with ideas of how Leah could use the photos and what she might say to new potential clients about the project.
As an aside, it's important to know that unlike in most home staging courses, I don't recommend offering to write detailed reports for your clients after your consultation.
In fact, I go so far as to say that staging consultation reports are a waste of time (unless of course you're charging extra for them, or you just love doing paperwork and having "write a report" hanging over your head when you get home from a client meeting)!
Just because you aren't typing up a fancy consultation report to send your clients, doesn't mean you can't give them comprehensive advice during a consultation. When you follow the home staging consultation formula I teach my students, your clients will follow your advice based on your instructions.
Will they do absolutely everything exactly how you would have done it? No, probably not. As Staging Diva Student and Realtor® Alison Davies pointed out in her comment, you will see things that you would have liked to tweak yourself.
Will they get a great result anyways? Yes, if you've provided the right instructions and you have a committed client. One of the ways to ensure you have a committed client is to charge a lot for your staging consultations! The more they invest in your advice, the more they'll be committed to following it. I discuss this in an article, Home Stagers, It's Not All About Price.
Here's my answer to Leah's home staging business dilemma about whether to include photos in her home staging portfolio from her do-it-yourself staging clients:
Plenty of home staging clients will want to do all the staging themselves following the advice they receive during a home staging consultation. In cases like this, the home stager is the Creative Director of the transformation. The fact that the stager doesn't personally move the furniture, paint the walls or fluff the pillows is not relevant. In fact, I don't believe a home stager should personally do many of these things because you make more money coming up with the ideas than doing the physical work yourself.
I see nothing wrong with including the before and after photos of projects where you "only" provided home staging advice in your portfolio and many home stagers share this view based on the comments from the original post.
When using the photos, you can also turn the fact that you only provided advice into a selling point by saying:
"Look what was achieved by this home staging client who decided to do the work themselves following my step-by-step staging advice. Having me come in and do a detailed home staging consultation with you so that you'll know exactly what to do to prepare your house to sell quickly and for more money is a great way to go if you're on a tight budget!"
I love how Staging Diva Graduate Stacy Goade of Alaska Premier Home Staging explained why it's right to include home staging consultation projects when she said, "If we are the major force behind a successful home sale it is appropriate to give ourselves credit as well."
Staging Diva Graduate Debbie Fiskum of Denver-based Perfect Transformations had a great idea for getting the client's permission to use their after photos when she said:
"I'd just call the client up and say, 'Your home looks absolutely charming in the listing photos! It looks like you took my advice to heart and did a great job of staging the house yourself. Would you mind if I used a couple of your photos in my portfolio? I'd be happy to include your name if you wish!' If she would prefer you take your own, ask when it would be a good time to come over and take a few shots."
Staging Diva Graduate Pamela Moore of Impressive Spaces Home Staging LLC in Tennessee rightly pointed out that "Most homeowners are so happy with the results that they are more than willing for you to come back and take pics."
What do you think of this advice? Will you use photos from home staging consultation projects and do these ideas make it easier to envision how you'll get or use them to sell your home staging services? Please join our community by adding your comments below!