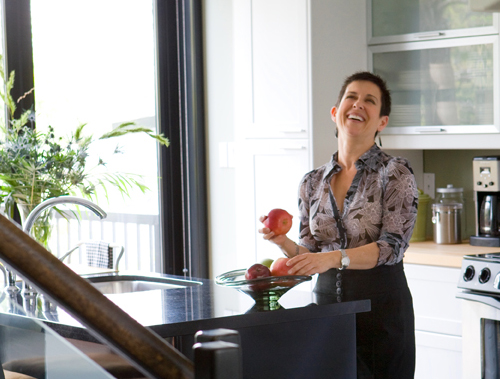 From the first time I read about home staging, it took more than 5 years to become a home stager.
There was no reason for that gap other than plain old fear.
If I'd been able to imagine the 10 reasons I'd love home staging, I'm sure I would have jumped in sooner!
I'm sharing what I've discovered in case it helps you get past your own fear. ❤️
And if you're already a home stager and stuck in a rut of self-doubt, it might remind you why you love home staging too!
The 10 Reasons I Love Home Staging and You Will Too
1. Honoring Your Creative Gifts
Sitting on your creative talent and doing nothing with it is so unsatisfying.  I'm much more energized when I'm thinking about how to make a home look better, both inside and out.
Before I even knew there was something called "home staging," I would walk into any room and think about how I'd make it better. Whether it was imaging the couch on another wall, or mentally rearranging all the artwork, I just couldn't help myself!
This cartoon kind of sums it up: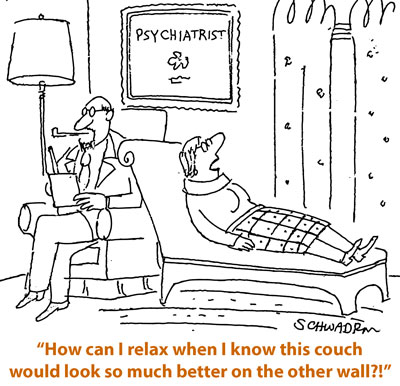 2. Finding Joy in What You Do
Last week, I was walking with my daughter and stopped in front of an especially uninspiring house and spontaneously did a curb appeal evaluation. You can imagine the eye rolls and "Oh Mom, can we keep walking?!"
For me it was pure joy standing there imagining what a beautiful house it could be if they painted pale yellow over that dirty light gray. What a lovely planter beside the front door would look like. How a new number sign, mail box and porch light would warm the place up. And on an on.
It made me happy just to think about the transformation and picture it in my mind's eye. If you've never done this before, try it on your next walk.
If you have the eye of a home stager, I'll bet you'll discover you can come up with your own spontaneous list of improvements too!
3. Making a Contribution That Matters and Being Appreciated
There are lots of jobs you can do that "make a difference" and yet feel totally unappreciated for your contributions.
Over the years, that wears you down.
I remember so many of my clients' personal stories and how I completed each home staging project knowing I'd made a significant difference in the quality of their lives.
For example, the 60 year old woman who was financially and emotionally burdened by trying to sell her mother's home. She was so stressed when we first spoke and had been trapped in a year long battle with her brother over it.
We spent about 4 hours re-arranging her mother's condo and it sold the next week. After sitting on the market for 12 months! That feels like performing magic no matter how many times you've done it. In over 20 years of staging homes, and I never get tired of it!
4. Variety in Your Work
Do you get bored when you feel like you're doing the same thing over and over again?
That's why I love that I don't have any of my own home staging furniture or accessories. Each of my projects is unique.
Often I'm working with the client already has in new and better ways. These home staging consultations are extremely lucrative and they're fast. And each house is a surprise, you don't know what you'll be working with until you get there.
For vacant home staging projects I'm using rental furniture. Because it isn't mine, I'm not limited to what I have inside my own storage locker. I can choose from over 100,000 square feet of furniture from a rental company. Way more variety than I could ever amass on my own which means that my staged homes don't all look alike.
And I get paid to go shopping for home accessories (something I teach in the Staging Diva Home Staging Business Training Program), which means I have the creative joy of picking out new stuff for every project!
5. Being Well Compensated
When you have the right pricing strategy and business model, as I share in my home staging courses, you can make a lot of money as a home stager.
And there's no reason not to be paid well for your advice because the home owner will make a huge profit on your services.
Take this example from Staging Diva Grad Mary Ann Benoit of Northern Lights Home Staging and Design. She staged a home in tiny Seward Alaska (population 3,000). The real estate agent thought his client would be lucky to get $175,000 for the home. Mary Ann staged it and it sold for $225,000. That's an extra $50,000 to the home seller because he invested $1,500 in Mary Ann's advice.
6. Immediate Gratification
One of the things I've always loved best about being a home stager is that I see the results of my efforts almost immediately. Imagine standing in the doorway of your client's empty home watching the furniture rental company truck pull into the driveway.
A few hours later, you're standing in a beautifully furnished and accessorized home that is totally a result of your creative vision!
That might sound terrifying if you've never done it before, but I can assure you it's not so scary when you have my formula to follow.
Even if you're "just" doing a paid home staging consultation where your client will follow your advice and do the rest themselves, there's still the immediate gratification because you'll see photos of the completed project (or go to an open house or showing once it's on the real estate market).
It's amazing how well your client's will follow your instructions and advice, especially when you're charging a lot for that.
7. Having a Flexible Schedule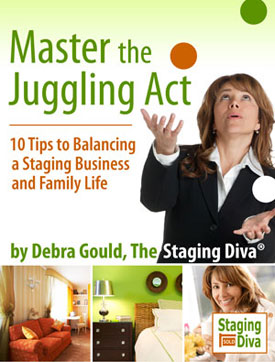 I became a home stager as a single mom with a 7 year old. I didn't work evenings or weekends and I could walk her to and from school every day. And once I'd figured out the business formula I share in the Staging Diva Program, I was making up to $10,000 a month doing it.
Many Staging Diva Grads start their home staging business on the side of another job.
Or because they're retired, they only stage homes 6 months of the year when they're not vacationing elsewhere.
It's totally up to you how hard you want to work and what days/times you want to be available to your clients.
If you're wondering how to fit home staging in around being a busy mom, check out this FREE report: Master the Juggling Act: 10 Tips to Balancing a Staging Business and Family Life.
8. Spending Less Time on Paperwork or in Front of a Computer
We're all spending too much time staring at screens and many of us aren't that technology inclined either. What I love about running a home staging business the way I do, is that I've kept it really simple. There are no reports to write or complicated software to learn.
Here's what Staging Diva Grad Amy Brown of Simply Staging by Amy says:
"I already have a knack for the decorating part of home staging, but I lacked the business side of things. The Staging Diva Program was great to have at my fingertips so I could listen at my own speed and in my own time. I was concerned about handling all the paperwork I thought had to be involved in the contracts and such, but Staging Diva has made it SO much easier!"
And I love this feedback from Linda Borghi of Dazzle Home Staging:
"You've laid out a strategy to make this career so much more enjoyable! Showing me how to avoid falling into the paperwork trap alone is really priceless! I paid big dollars previously for another company's training and it left so many blank spots. The Staging Diva Program answered all my lingering questions in an entertaining way and prepared me to finally start my staging business. This is the best investment I ever made in becoming a home stager."
9. Experiencing a Genuine Connection
I'm an introvert. I don't like being in crowds. I was stressed out working in companies and coping with all the chit chat, office politics and group meetings.
Like almost everyone, I crave genuine connection in my personal life and my work.
Home staging definitely provides this. When you're making a meaningful difference for your client and helping them in their homes, of course there's a connection!
10. Enjoying a Career Others Are Curious About
Home staging combines two hot topics: decorating/home improvement and making more money in real estate. I've been a professional home stager since 2002 and those were hot topics back then and still are today.
Even cavemen decorated their homes with paintings and drawings! It's a basic human need that will never go out of style.
And as long as our homes are our single most important investment, making more money when we sell will always be something people care about.
So imagine how easy it is to talk about what you do when you're in an industry that combines these ideas and everyone is interested in learning more.
You'll know what to say in those otherwise awkward "networking" situations, parties, etc. The media will want to interview you. Real estate agents will want to learn how you can help their clients. Home owners will reach out to you for help.
In other words, home staging is a marketing dream! You don't have to be "salesy," you just have to talk or write about what you're passionate about!
What Do You Think?
If you can relate to my 10 reasons I love home staging, please share in the comments below. Have you found another career that offers all of these benefits?
And if you're a home stager and have other reasons you love home staging, add your thoughts.
I'd love to continue the conversation about this field that I love so much.