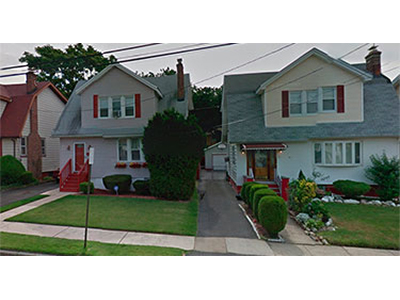 Attention professional stagers looking for New Jersey home staging jobs!
This Irvington New Jersey home staging job is your chance to help a home seller who has reached out to me to recommend a home stager in her area.
For the right home stager, this would be a great way to connect with a home seller who believes in the importance of home staging and who is planning ahead.
Her single family home is going on the market in January, but she wants home staging advice now to make sure she gets top dollar once she puts it on the market.
It's interesting to note that this is the second request I've had, in as many weeks, for a home stager for a home going on the market in the new year. The other recent home staging job is in Colorado.
This home is located in a residential area close to Garden State Chancellor Park and expressways. It is approximately 1,300 square feet and is located in a zip code where the average list price is around $106K according to Trulia.com.
I do not know how this home compares to the average. This would be something to discuss with the home seller. The above image is taken from the Google street view of her address.
The house is currently furnished, so you will likely work with what the client already has, arranging it in new and better ways. Since I've not seen the house, it's also possible that you'll want to bring in some rental items.
This home staging job will make an awesome addition to your home staging portfolio and could be a terrific home staging success story to share with future clients.
Not to mention this could be the first of many home staging jobs once the client's real estate agent gets a look at the fantastic job you've done transforming this home.
New Jersey Home Staging Job — How to Apply
Apply for this Irvington, New Jersey home staging job couldn't be easier. Simply complete the form at the Staging Diva Home Staging Project Referral Service. Please be sure to include "Irvington New Jersey Home Staging Job" as the project location in the first line of the form.
This New Jersey home staging job will be referred first to members of the Staging Diva Directory of Home Stagers for free. In other words, there will be no referral fee for Directory members even though we're playing "match maker" for you.
If there's not a Directory member available for this project, it will be open to any Staging Diva Graduate with a professional Internet presence. (It's difficult to convince a client to hire you if they can't review your staging portfolio, after all!)
If you get any paid work through this referral (and you're not already a Staging Diva Directory of Home Stagers member), there will be a $125 referral fee, which you can build into your home staging consultation fees. It's entirely up to you.
Remember this is a one-time fee (only if you get paid work from this house seller). If you receive future home staging projects from her, or she refers you to friends or her real estate agent, there is no additional fee.
In other words, you have nothing to lose applying for this position if you're in the Irvington New Jersey  area, and everything to gain!
Please note, if you do not follow the instructions to apply for this home staging job, you will not be considered.
Are Home Staging Clients Able to Find You?
If you're not already a Staging Diva Graduate consider that just one good project would more than pay for your entire training program plus building and hosting your web page on the high-traffic Staging Diva Directory of Home Stagers for an entire year!
Unless you have more home staging projects than you can handle, what are you waiting for? Get the training and marketing you need to ensure the steady growth of your home staging business.
This is the only home staging job board in the world and has a network of over 30,000 Staging Diva students in 23 countries. Come and join us!