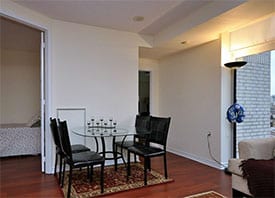 Since I've had a home staging business since 2002, I get several emails like this each week. My heart goes out to the frustrated home seller and clearly his real estate agent hasn't been much help. Here's an abbreviated version of his story:
I'm trying to sell my 960 sq.ft condo in Mississauga. I have had 13 showings in 2 months with no offers. My wife is in tears that we cannot leave the city soon to live close to her sick mother because we can't sell our condo.

I have a corner unit on a high floor with absolutely clear views on 3 sides and there is no suite beside mine so it's quiet.

The building I live in has some disadvantages like "lack of balcony." However, the building backs up onto a ravine and 95% of the owners live in the building. It also has one of the lowest maintenance costs in the area.

I have priced the condo the lowest in the building (currently there are 4 other suites for sale) and have reviewed the nearby buildings for price comparison and it is priced below the local going rate (on a price per square foot basis).

The feedback that I have received from the real estate agent is as follows:

There is no balcony.
There is no window in the 2nd bedroom.
The suite is facing the street.

All of the above RE agent comments are building- and suite-design issues, that I unfortunately cannot help with. I understand the market is not that great right now but not getting even a single offer is disconcerting. What can I do to create a compelling "WOW" factor that a buyer will submit an offer?
I rarely share all the details I get like this in a job posting, but I wanted to include this one because it's so typical of what happens.
People have to move for all kinds of reasons, often pressing ones that have nothing to do with real estate. Yet their whole life gets put on hold because they can't sell their home! That's one of the reasons I love being a home stager, we can make such a difference in our client's lives!
The other thing I "love" about this email is you can see how the real estate agent falls back on issues like the lack of a balcony as the reason the unit won't sell. The whole building has no balconies and this has been the case for 10 years! Clearly others have bough and sold units there!
I reviewed the actual listing online and there are a ton of things a home stager could do to add pizzazz to this dull condo! Though tidy and decluttered, it really doesn't show very well.
This home seller, while motivated, has no idea how to fix it himself. He wrote me a basic cry for help since he's already tried dropping his price and his real estate agent is clearly fresh out of ideas.
If you're interested in helping this frustrated home seller, this could be the perfect home staging job for you!
Please note this home staging project is only available for Graduates of the Staging Diva Home Staging Training Program.
It's easy for you to apply for this home staging job. All you need to do is complete the form at the Staging Diva Home Staging Project Referral Service. Please be sure to include "Mississauga Condo Staging Job" as the project location in the first line of the form.
This home staging job will be referred first to members of the Staging Diva Directory of Home Stagers at no charge.
If there's not a Directory member available for this project, it will be open to any Staging Diva Graduate with a professional Internet presence. (It's difficult to convince a client to hire you if they can't review your staging portfolio, after all!)
If you get any paid work through this referral (and you're not already a Staging Diva Directory of Home Stagers member), there will be a $250 referral fee, which you can build into your staging consultation fees. It's entirely up to you. You'll be making money on this project from not only your consulting and shopping time, plus you can make a commission on painting if you follow the advice I give you in Course 5 of the Staging Diva Home Staging Training Program!
I generate tons of traffic for anyone listed on the Directory.  Just one good project would more than pay for your entire training program plus building and hosting your web page on the high-traffic Staging Diva Directory of Home Stagers for an entire year! When clients find you from your listing in the Staging Diva Directory, I do not charge you a referral fee.
---
This one project is the perfect example of why your company should be listed in the Staging Diva Directory of Home Stagers. We build your page and all the code to help search engines find you and it only takes 7 days from when you provide your materials!
Learn more about the Staging Diva Directory of Home Stagers