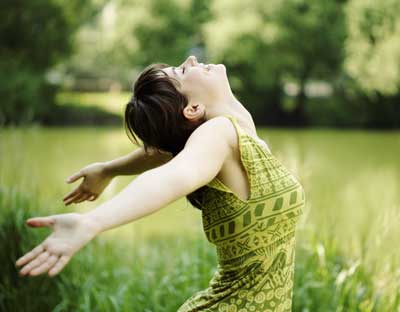 I became a home stager for freedom and creativity. It doesn't matter how long I've been a home stager or business person, I still get stuck like everyone else.
It's only natural to have our energies and ideas ebb and flow. It's part of the process of creating our ideal business and lifestyle.
The philosopher Jean-Jacques Rousseau said:
"Man was born free, but everywhere he is in chains."
Pretty profound and so relevant even though he would have said it way back in the 1700's!
We have so much freedom to do what we want with our lives, but something often holds us back. More often than not it's fear that we're not good enough.
Instead of admitting that to ourselves, we pretend we don't have any freedom because of  lack of time and lack of money.
Let's explore the top 2 excuses for not getting on with living our best life:
Not Enough Time to Be a Successful Home Stager
The average person spends 2.5 hours per day on social media, plus 24 hours a week in front of the TV! Add those two up and you've got an entire extra work week!
I waste time binge watching Netflix, especially when my anxiety is getting the better of me. Yet, I try and be very aware of how long I spend on this because I know it's at the expense of following my dreams and stepping into my future.
It does take time to build a successful business. Yet, you can do it at whatever pace feels comfortable for you.
When I became a home stager, I was a single parent with a 7 year old. I walked my child to school every morning, was there for pick up at 3:15 almost every day and never worked evenings and weekends. Despite those constraints, I grew a very successful home staging business and was even featured on HGTV, CNN, Women's Day, House & Home, and in many other magazines and newspapers.
I am not a super woman. But I am focused, when I need to be.
I got stuck and overwhelmed some times. But then I pulled myself out of it and kept going. Really there was no option. Unless my home staging business succeeded, we wouldn't eat and I wouldn't be able to pay my mortgage.
Not Enough Money to Start or Grow a Home Staging Business
Home staging is one of the least cost businesses you can start if you follow the business formula I share in the Staging Diva Home Staging Business Training Program.
Here's what you DON'T need to be a home stager:
You can run your home staging business from your kitchen counter or dining room table. In fact, when I'm at my own computer, that's often where you'll find me!
Most home stagers work on their own, without any employees. And that doesn't mean you're not making money. You can make $100,000 a year as a home stager entirely on your own. I know because I've personally done it (not to mention knowing that's the income level of many Staging Diva Grads, because they share their numbers with me in our Staging Diva Business Accelerator calls!)
Some home stagers buy their own furniture and/or accessories. This is their choice, and makes the business far more complicated in my opinion.
I've staged over $70 million worth of real estate, with none of my own inventory. I don't even own accent pillows to put in clients' homes! Staging Diva students learn how to do this too.
I've been a home stager since 2002 and I've never paid for a newspaper or magazine ad.
Don't let not having "enough" money to start a home staging business be one of the excuses you hide behind if you want to be a home stager.
It costs almost nothing to get into this business when you follow my business model.
You might have to cut back on some impulse purchases in the early days, but you certainly don't have to take a vow of poverty!
You'll be making hundreds of dollars from your very first home staging client if you know what you're doing from a business standpoint.
What Else Keeps Home Stagers Stuck?
Another factor that keeps us stuck and overwhelmed and one that I've written a lot about is negative self-talk.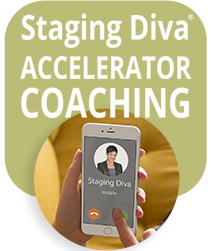 Talk about a huge enthusiasm killer!
Knowing what we need to do to move forwards in our lives can be easier said than done.
That's why it really helps to have a home staging business coach in your corner.
Successful athletes and business owners almost all have coaches. Business coaching is such a valuable tool in:
Helping you get unstuck.
Seeing opportunities instead of barriers.
Staying motivated.
Solving problems.
I have personally coached hundreds of home stagers and entrepreneurs over the years. You'll be amazed at how much ground we can cover in even a single hour.
You can experience how I can personally help you whether you're:
Just thinking of becoming a home stager.
New to your home staging business and you're feeling stuck.
A successful home stager and want to take your staging business to a whole new level
Wouldn't it be nice to know I'm only a phone call away if/when you get stuck?
Learn More About Coaching Here
What challenge is stopping you from moving forward right now? Please share in the comments below.