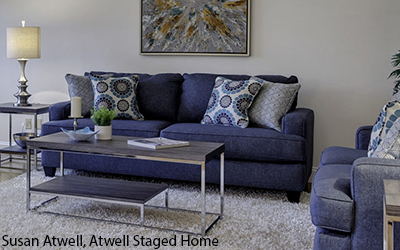 On Friday I shared two of my top five staging tips in a blog post you can read here.
They included paying attention to curb appeal and and de-cluttering.
Here are my remaining top three home staging tips:
3. Avoid wandering eyes
Make sure there are no little problems in a room that distract potential buyers with thoughts of all the work they'll have to do.
You want them to see the bigger picture and imagine themselves living there.
For example, do a walkthrough and look for chipped paint on the door frames.
These can be filled in with "white out".
Old nail holes can often be hidden behind strategically hung art. Don't just throw things on the wall where the old nail was (see point 5).
Peeling wallpaper should be glued back down.
Make sure there are covers on all electrical outlets and light switches, and replace any that are cracked.
These little things make a big difference!
I'm NOT suggesting you use home staging to hide real defects.
4. Color is your friend when it's time to sell a house
If you have to repaint a home's interior, or some rooms in a home, try to choose a pleasing color palette that allows each room to flow nicely into the next.
All colors should go together.
Try to repeat one signature color throughout a home. Maybe it's the feature color in one room used as an accent in the others, through accessories or throw cushions.
5. Make a big impact with a little art
By strategically using art, you can:
Enhance a home's perceived value
Draw the eye away from flaws like a room with no window
Give an otherwise uninteresting space a focal point
Replace personal memorabilia like college certificates in a home office
Position art at eye level and use pieces that are appropriate to the size of the wall.
Art with a large frame on a small wall can make the entire area seem smaller.
Avoid religious art, or anything edgy that could be offensive to some potential buyers.
Want more home staging tips?
These are only five of dozens of tips that can improve your next home staging project.
Check out Staging Diva Ultimate Design Guide: Home Staging Tips, Tricks and Floor Plans – an essential guide for every home stager.
It's full of home staging design tips and tricks (as the title suggests) and they're all brought to life with before and after photos and sample floor plans from my own home staging projects.
I hope these tips will help you get your next client's home sold faster for more money!