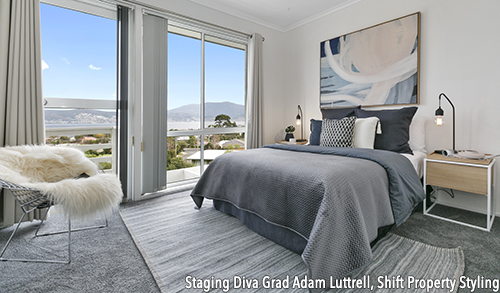 Being a professional home stager, you know the end goal of your projects is to make home buyers fall in love with the space you're decorating.
Wall art plays a role in creating the right environment and giving a polished look.
Potential buyers need to feel comfortable and content as they tour a home on the real estate market.
Home staging art should make a room feel inviting.
It should not distract home buyers by becoming the prime focal point (unless you're trying to take their eye away from something else that you can't change).
Choosing Art for Home Staging
In this example by Staging Diva Grad Adam Luttrell of Shift Property Styling, the art pulls the colors of the room together.
It doesn't compete with the stunning view out the window. This is key for this property because the view is an important feature.
You don't want to offend or upset buyers by using religious art, nudes, or anything else that could potentially put someone off.
It's not about your taste, or the homeowners' taste.
Choose art for home staging that will appeal to the largest number of potential buyers. And make your choices appropriate to the style of the home.
For example, when staging a contemporary home, abstract art or photography would be more appropriate than reproductions of "Grand Masters."
In a very traditional home, florals and still life paintings are more appropriate than bold abstracts.
Where to Get Home Staging Art
If your furniture rental company doesn't have art to rent, consider going to local galleries. Even major museums have art rental programs.
Fortunately, with digital printing being so inexpensive, it's easier than ever to get art for home staging.
Many print-on-demand sites feature a variety of artists' work. You can source pieces online, printed on canvas with a gallery wrap.
These maintain most of the sophistication of framed art. Canvas prints are simpler to handle, easier to ship (and hang), and less expensive than a heavy frame with glass.
By the way, hanging art is something a lot of people can't do. They hang it too high or too low, or choose art that's too large or too small for the wall they're putting it on.
In many home staging projects, you'll work with art your client already has. You'll just move it around for them!
This could even be one of your interior redesign services for people who aren't moving!
Home stagers, what's your experience with choosing art for home staging? Please share in the comments below.