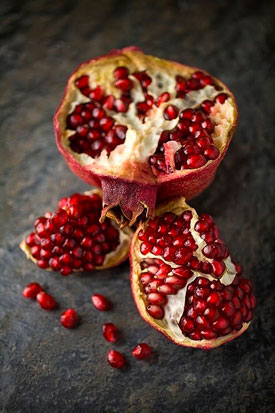 This is not a food blog, but stick with me because this story provides an important lesson in marketing for home stagers.
Pomegranates are delicious and loaded with antioxidants. I like to eat healthily and I also love food that looks good.
Despite that, I rarely bought the fruit for years because I didn't know the right way to get the seeds or "arils" out without making a huge mess.
Then one day, some smart marketing people at POM Wonderful had a brochure displayed next to the fruit.
They explained how to open and use pomegranate with easy-to-follow diagrams.
Ever since, I've stocked up on pomegranates whenever they're in season and become quite the pro at scooping out the arils.
Side note, they're awesome with a handful of almonds. A healthy and portable snack while you're driving to your home staging consultations.
What turned me into a buyer of pomegranates?
Information that was easy to understand and access!
The marketing team at POM Wonderful realized that a big barrier to people buying their product was a lack of understanding about how to use it.
As long as a pomegranate remained a mystery— or difficult to use— they would never realize their full sales potential.
Home stagers, you have the same marketing problem!
Just like the POM Wonderful folks, you need to educate your own audience to build demand for your services.
Most of you live and work in real estate markets where people have never heard of what you do. Or if they have, there is very little understanding of how and why home staging works.
This applies not only to home sellers, but unfortunately also to Realtors.
There are many preconceived ideas and myths about what a home stager does.
Dispel these and educate your audience about what to expect when they hire a home stager.
Marketing for home stagers
Once people understand what a home stager does, and they realize the value of hiring you, they will be motivated to take action.
The beauty of educating people as a way of marketing your services, is that you become the home staging expert in their eyes.
Once they're ready to hire a professional home stager, you'll be the one they turn to for help decorating a home to sell on the real estate market.
I discuss the various ways you can deal with this issue in Module 4 of my home staging courses, called Staging Diva Sales & Marketing Secrets to Boost your Home Staging Business.
Depending on whether you're talking to a home seller or a real estate agent, you'll want to explain your services differently.
Both of these target markets have their unique concerns and different information needs.
This scratches the surface of what's in my training program but for examples of how I explain home staging differently, check out this FAQ page for home sellers and this FAQ page for Realtors.
Home stagers, next time you think that educating your market isn't important, think about pomegranates. How a simple fruit (that offers outstanding nutrition, low calories and great taste in a low-cost "package") was such a tough sell.
Simply because people didn't understand how to use it and were therefore afraid to buy.
Home stagers, have you found a great need to educate your local market?
Do you embrace that challenge or wish you could just get on with things? Please share in the comments below.