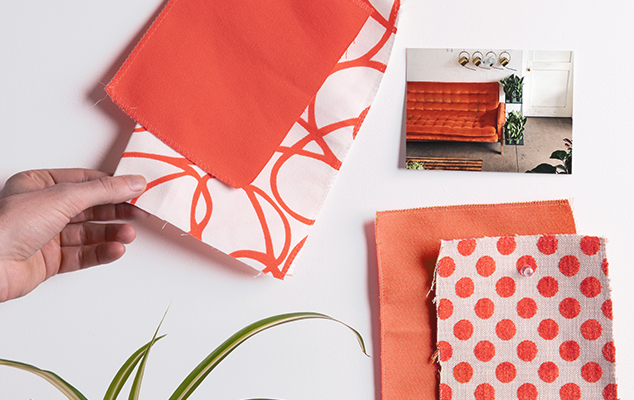 Pantone just announced their latest Color of the Year, "Living Coral".
Before I discuss how home stagers use coral, I must say I find the name "Living Coral" highly ironic in the face of global climate change.
While not Pantone's mandate, perhaps they found a way to get more people talking about the reality of what's happening to the world's coral reefs?
Pantone's choice or Coral means you'll see this very feminine orange-pink pop up all over the place in 2019.
Watch for it in textiles, furniture, cosmetics, home accessories, jewlery, clothing, etc.
In my opinion, spring or summer clothing, scarves, lipstick and nail polish seem like the best uses.
Pantone describes their color choice this way:
"Vibrant, yet mellow . . . embraces us with warmth and nourishment to provide comfort and buoyancy in our continually shifting environment . . .

Sociable and spirited, the engaging nature of Living Coral welcomes and encourages lighthearted activity.

Symbolizing our innate need for optimism and joyful pursuits, Living Coral embodies our desire for playful expression."
I agree Coral is playful and cheerful. The world can certainly use that right now!
Is it just me or does Living Coral look a bit like if Pantone's 2011 Honeysuckle and 2012's Tangerine Tango had a baby? 🙂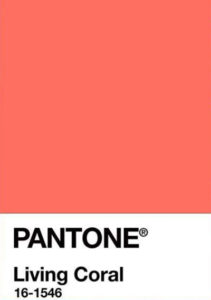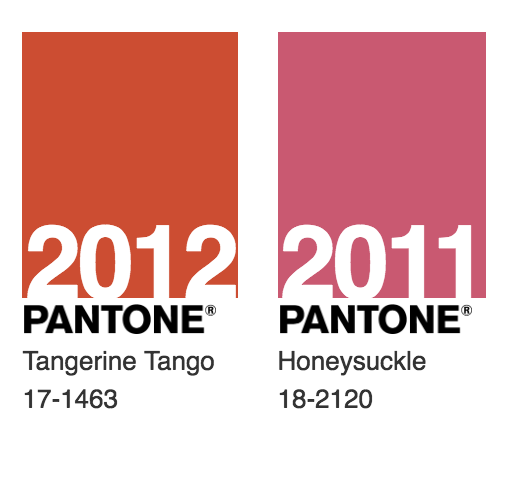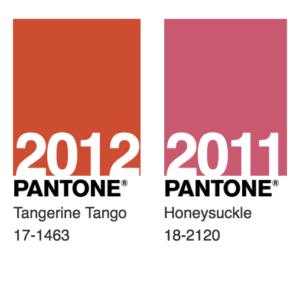 A Word about Pantone
If you're wondering what Pantone is, or whether they will have any influence, I wrote about it in more detail here.
Pantone's official color number for Living Coral is 16-1546, which is handy to know, especially if you're thinking of using it in your home staging business logo.
Pantone color numbers are often used when you need to specify an exact color match for a logo for printing.
It saves you from the subjectivity that comes with trying to match a HEX or RGB color (which also look different on different computer/electronic device screens).
Home Stagers Use Coral in Home Staging Projects
Coral will be eye-popping (distracting?) in real estate listing photos and on social media.
I wouldn't use Coral as a paint color in a home staging project because it's too bold. It might scare away home buyers.
Years ago, I recommended new home staging paint colors for a home that had a living room painted this color, leading into a dining room in bright turquoise.
Where the two colors met it actually vibrated! Awful and so distracting to home buyers!
I successfully convinced them to repaint (in addition to putting 7,000 pounds of furniture and clutter into offsite storage— but that's another story!).
There are many ways for home stagers to use Coral in a less overbearing way than as a wall color.
For home staging projects, consider Coral as an accent color only, and limit it to a few accessories.
Coral will energize an otherwise gray or very neutral interior. Adding warmth and brightness.
For example, imagine a fairly masculine interior with lots of charcoal gray and black furnishings. Or even a warmer-but-neutral decor of mostly beiges and white.
In both cases, Coral would be nice as an accent in art, flowers, throws or throw cushions.
Perhaps as one of the colors in a shower curtain (especially in a basement bathroom which can use some warming up and brightening). Complemented by white fluffy towels.
Coral could be nice in bedding (especially in a kid's room).
Home Stagers, Don't Get Carried Away with Coral in Home Staging
Over use will make a home look very feminine which is risky in decorating a house to sell on the real estate market.
When you have a color consultation or interior redesign project for a client who isn't moving, you may want to consider Coral, especially for a client who wants a warm and feminine interior.
Imagine an accent wall in child's room with white, black or silver furniture and patterned bedding!
You can definitely be bolder when you're choosing paint colors for interior redesign.
If you want tips for using color in home staging, be sure to check out the Staging Diva Ultimate Color Guide: The Easy Way to Pick Color For Home Staging Projects.
Home Stagers Will You Use Coral in Your Home Staging Projects?
Please share in the comments whether you are planning to use Coral in your home staging projects. Also what colors do you think it will pair well with?
If you'd like me to write an article about how you used Coral in a home staging project, you can submit your photos and details here.
Photos: Pantone 2019 Color of the Year