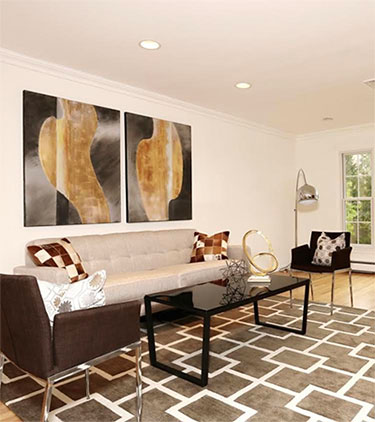 There aren't many ways to legally triple your investment within a short period of time— especially not in 7 days. A home staging transformation (or decorating a house to sell), happens to be one of them.
This home staging success story comes from Staging Diva Grad Lori Carbone of Spaces That Speak Home Staging, based in  Mahwah, New Jersey.
Lori writes, "It's so exciting to help people so that they can move on to the next chapter of their lives. A home staging transformation is such an incredible rush! It works time and time again."
This client's home had been on the real estate market for a year with no no acceptable offers. A Realtor (finally) suggested they hire a home stager and contacted Lori on their behalf.
What Lori found was a house with a lot of mix and match furniture and very "kid friendly" décor in all rooms.
This is not uncommon as the average person rarely lives in a house that looks like it was torn from the pages of a decorating magazine— especially when there are young children living there.
However, a well staged home is exactly what home buyers are typically looking for because that's what helps them fall in love with one property instead of another.
Before meeting with clients, Lori reports that she always researches MLS to familiarize herself with the competition in that neighborhood and price point, and does whatever else she can to get to know the area and likely target market for the home she will be staging.
Such research is key to delivering the best result for any home staging client and is discussed in detail in the Staging Diva Home Staging Business Training Program.
Home Staging Transformation Results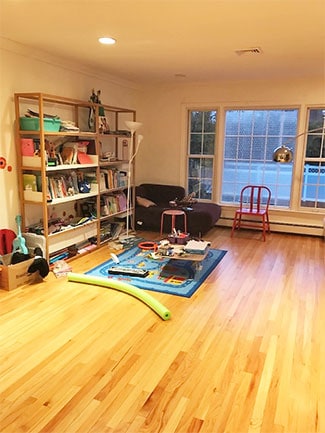 Lori took the kid-friendly decor and transformed it into a warm and inviting atmosphere, giving each room a specific purpose. She used on-trend furniture, accessories and art, and the staged home showed beautifully.
After previously being on the real estate market for a year without an acceptable offer, here's what happened after Lori staged it:
Home sellers received multiple offers within a week and sold at $15,000 over list price for a total of $1,261,000.
Investment in home staging – $ 5,000
Gain on selling price – $ 15,000
Return on investment – 300%
More about Lori Carbone, Founder & President of Spaces That Speak Home Staging
With 20+ years in sales, marketing and merchandising in New York's fashion industry, Lori utilizes her corporate experience to ensure client objectives are clearly defined and overall goals are achieved. Through her business, Lori has extensive experience in home staging, decorating and remodeling.
Her education includes the Fashion Institute of Technology and the Staging Diva Home Staging Business Training Program. She writes:
"The Staging Diva Program was such an influential part of my home staging business plan. The tools, process and procedures Debra outlines in the program set you up for success. I have taken other courses but none compare to the comprehensive program with Staging Diva. I truly appreciate all Debra's help and guidance through the courses and Staging Diva Dialog group coaching calls. She is such a great inspiration!"
Home Stagers!
Do you have an interesting staging success story to share? Please let me know by filling out this online form and perhaps I'll feature your business in an upcoming post!
Debra Gould, The Staging Diva®
A home stager since 2002, Debra Gould created the Staging Diva Home Staging Business Training Program in 2005 to help others make a living from their creativity. Debra is the author of 5 guides including the Staging Diva Ultimate Design Guide: Home Staging Tips, Tricks and Floor Plans.