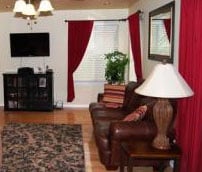 Home staging is a service that not everyone has tried yet, despite what's happening in the real estate market. That's changing and often it's the wives who have to convince their husbands to try hiring a home stager  for home staging tips to sell their home faster and for more money.
Usually I deal with the wife almost exclusively when it's a couple selling their home. Sometimes the husband speaks to me first by phone before agreeing to hire me for home staging.
When the couple attends my home staging consultation, it's not unusual to hear them take turns saying, "I told you so," as I give my home staging tips and recommendations.
That's one of the reasons our services are helpful— we're that independent third party who can help them decide what finally needs to be done. It saves them from going around in circles debating each decision or from feeling bad because they felt they had to go along with something their spouse wanted that they don't agree with.
As a home staging expert in this situation, your clients will generally defer to your recommendations, especially when you charge enough for your services. The more they've invested in your home staging consultation, the more likely they are to act on your advice. That's one of the many reasons I recommend charging more for your services – you deal with better clients!
What do you do when a husband is skeptical about your home staging tips?
A special thanks to Colorado Staging Diva Graduate Donna Richter of Designs by Donna, LLC who shares this experience she had with a recent home staging project:
I worked with a client to sell their home because they needed to move out of state. During the meeting the husband could not join us. After the husband saw my list of home staging tips and suggestions he said, "This is ridiculous. There is nothing on this list that will  help sell our house."

So the wife did most of the work on the list by herself.

After moving a love seat out of the living room and replacing it with a recliner and the other changes to the house, he said he could not believe how great the house looked and how much larger it looked. The wife felt great about all her work.

The house then went on the market, it was sold on day one for full asking price. She is a believer and I think he is now as well.

The Staging Diva Training Program taught me what to focus on during a home staging consultation and how to explain how staging could help sell the home to my clients.
As you can see from Donna's living room photo, this is an average house that's well presented. Home staging doesn't have to be over the top with tea trays on beds and sea shells in the bathroom. In fact, I've argued in the past that those home staging tricks don't actually work!
What's your experience dealing with couples as clients? Who is the most open to your suggestions? Please add your comments  and share this story on Facebook using the links below. It would be great to get a lot of different points of view from home stagers.
Debra Gould, The Staging Diva®
President, Six Elements Home Staging and Voice Of Possibility Group Inc.
Debra Gould developed the Staging Diva Home Staging Business Training Program to teach others how to earn a living doing something they love. There are more than 7000 Staging Diva Students in the U.S., Canada and over 18 other countries. Debra is frequently profiled in the media for her home staging expertise and is the author of 5 guides for home stagers.