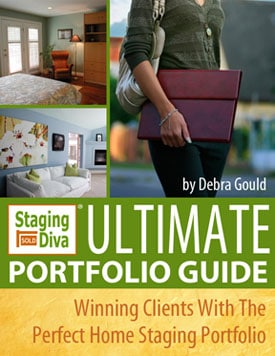 In a digital world, your home staging portfolio can be your website, your profile page on the Staging Diva Directory of Home Stagers, or the more conventional hard copy portfolio that you present in person.
No matter what form it takes, the quality of what's inside your home staging portfolio is critical if you want to have a successful home staging and redesign business.
I've seen so many poorly written "about us" pages, ineffective home staging portfolios, and home stagers falling into the trap of using "stock" before and after images to promote their home staging services.
Watching so many new home stagers fail because they couldn't attract clients motivated me to write the new Staging Diva Ultimate Portfolio Guide: Winning Clients With The Perfect Home Staging Portfolio.
Home staging and interior redesign are all about your aesthetic sense. Your clients will hire you because they believe you've got more talent and creativity then they do.
How you present your talent is the single most important factor in determining your success as a home stager. If you have great visual sense but that talent is invisible to potential clients, then you don't get clients. It's as simple as that!
In this new guide, I provide worksheets and checklists. I guide readers through what should go into a winning home staging portfolio and then take you through the steps to create your own.
You'll learn:
How to write about your talents in a compelling way
How to get a great logo that you'll be proud of when promoting your home staging business
Where to get client testimonials (even before you've had your first paying client)
How to taking great before and after room shots that leave potential clients saying "Wow, I need to hire this person!"
How to leverage your home staging portfolio for maximum exposure in the media
And more.
Here's what Staging Diva Graduate Laura Jensen (WI) said after reading an advanced copy of this new guide:
"Debra, the Staging Diva Ultimate Portfolio Guide is fantastic!! Everyone interested in the business of home staging should read it. You have a great writing style that puts the reader at ease. I especially liked how you went into detail about how to take perfect photos. Your guide is not only helpful to home stagers but to Realtors who take listing photos. Congratulations on a great addition to your Staging Diva collection of guides."
You can read the full table of contents and get your copy here.
Debra Gould, The Staging Diva
President, Six Elements Home Staging
Home Staging expert Debra Gould also known as The Staging Diva is president of Six Elements Home Staging and Redesign, an internationally recognized home staging company that is frequently profiled in the media in the US, Canada and Australia. Debra Gould developed The Staging Diva Program to create opportunities for others to grow their own profitable home staging, real estate enhancement businesses.