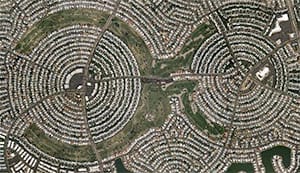 This home staging job in Phoenix Arizona is in the town of Sun City.
Fun fact, the Sun City retirement community was built in the 1960's and 1970's on the site of a former ghost town!
Don't the curvilinear streets kind of look like crop circles from the air?
This home staging job is a great opportunity to become known as an expert home stager in an area that's especially popular with snow birds and retirees.
It is your chance to help a real estate agent who has reached out to me to recommend a home stager in her area. This single project could easily lead to others.
First a $25,000 price reduction and now an interest in home staging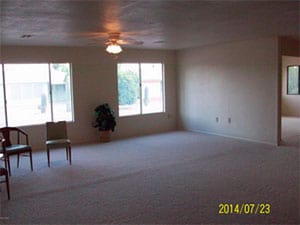 This Sun City vacant home, built in 1971, has 3 bedrooms.
It is just over 2,000 square feet and will need to be furnished by the home stager.
The house languished on the real estate market for 3 months at $200,000.
I'm sure MLS photos like this one didn't help! Especially in a retirement/snow bird community where many potential buyers would be buying there from northern states or Canada. They would rely especially on online photos before deciding whether to travel to see the property.
After 3 months on the real estate market with no offers, the real estate agent talked the client into a $25,000 price reduction 3 months ago.
Still no action, still same awful online photos.
Now with only 45 to 60 days left on the listing, the real estate agent decided home staging might help.
Perhaps, it's at the request of her client. I don't know.
We always say that the cost of home staging is less than a price reduction, and this project will prove that point perfectly.
This home staging job will make an awesome addition to your home staging portfolio and could be a terrific home staging success story to share with future clients.
Imagine talking about staging a home and it selling successfully after 6 months on the market with no action, despite a significant price drop (that would have been more than the cost of staging the home in the first place).
Given how little attention has been paid to providing quality listing photos in the past, I recommend you include providing new photos as part of your home staging fee.
Would you believe all the current listing photos even have the date at the bottom.
Not only does that look unprofessional, it tells everyone at a glance that the home has been sitting on the market for six months (or more depending on when you see them).
Arizona Home Staging Job — How to Apply
Apply for this Phoenix Arizona home staging job couldn't be easier. Simply complete the form at the Staging Diva Home Staging Project Referral Service. Please be sure to include "Sun City AZ Home Staging Job" as the project location in the first line of the form.
This Arizona home staging job will be referred first to members of the Staging Diva Directory of Home Stagers for free. In other words, there will be no referral fee for Directory members even though we're playing "match maker" for you.
If there's not a Directory member available for this project, it will be open to any Staging Diva Graduate with a professional Internet presence. (It's difficult to convince a client to hire you if they can't review your staging portfolio, after all!)
If you get any paid work through this referral (and you're not already a Staging Diva Directory of Home Stagers member), there will be a $250 referral fee, which you can build into your home staging consultation fees. It's entirely up to you.
Remember this is a one-time fee (only if you get paid work from this real estate agent). If you receive multiple home staging projects from the same agent, or she refers you to others, there is no additional fee.
In other words, you have nothing to lose applying for this position if you're in the Phoenix or Sun City area, and everything to gain!
Are Home Staging Clients Able to Find You?
If you're not already a Staging Diva Graduate consider that just one good project would more than pay for your entire training program plus building and hosting your web page on the high-traffic Staging Diva Directory of Home Stagers for an entire year!
Unless you have more home staging projects than you can handle, what are you waiting for? Get the training and marketing you need to ensure the steady growth of your home staging business.
Debra Gould, The Staging Diva®
Staging and marketing expert Debra Gould operates the only home staging job board in the world and has a network of over 9,000 Staging Diva students in 23 countries. Come and join us!