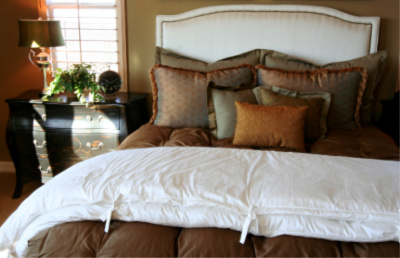 If you're a home stager thinking, "Gee, if I had my own home staging inventory I could make all these homes look so much prettier," you need to read this cautionary tale.
Kimberly (not her real name) lives in a major US city and was staging high-end condos, using all her own home staging furniture and accessories.
She does not have a "package" from a previous career, an inheritance, or a wealthy husband.
But, she has a vision for how wonderful all her clients' homes could look when decorated properly.
To put her creative vision into action, Kimberly bought everything she needed at stores whenever they were running those "don't-pay-a-cent" events where you can get what you need on credit, and you don't have to pay for it for another 2 years.
That's how Kimberly amassed all this home staging inventory— project by project.
Every time she had a new condo to stage, she would buy all the furniture and accessories for that particular condo. Then another project would come, and she'd go out and do it again.
Kimberly believed that since she didn't have to pay for her home staging inventory for a couple of years, she could make a small fortune in the meantime.
She assumed she was going to rent her furniture several times over the two years. By the time the payment due dates arrived, she imagined she would have made all this profit from renting and re-renting the items out to her clients.
At least that was the "logic" of it in Kimberly's mind.
She never took the Staging Diva Home Staging Business Training Program but hired me to help her with one-on-one business coaching after she found herself $100,000 in debt!
Catch the rest of Kimberly's story on Thursday. In the meantime, if you're already a home stager please share your experiences with buying and renting out your own home staging inventory by commenting below!