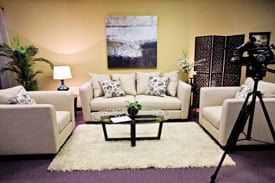 There is no single path to a home staging career. Home stagers come from many different backgrounds and past jobs before building their own business decorating homes to sell for the real estate market.
I've had home staging students who were in: nursing, auto sales, financial services, film, retail, cleaning, painting, stay-at-home-moms, army and more. One was even a past personal assistant to comedian Rodney Dangerfield! You can meet some of them in Craving a Career Change: Reinvent Yourself as a Home Stager.
Corona California home stager Ana Hitzel of AccentPositives Home Staging and I have been corresponding since she first took my home staging courses in 2007, and then more recently on Facebook after she announced that she would be hosting her own radio show. Her first guest will be Cory Chalmers, owner of Steri-Clean and the go to guy on the A&E hit show Hoarders.
But I never knew Ana had previously had an Air Force career!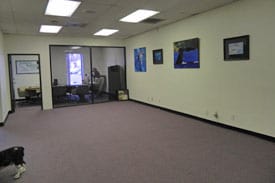 Ana shares her story here along with before and after photos of a recent transformation she did of a local TV talk show set:
"After a 10 year career in the US Air Force, I didn't really know what direction I wanted to take with another career. Becoming a full-time mom kept me busy enough but something else was missing. I knew I wanted to own my own business but it had to be something I loved.
Staging has turned out to be the best choice I could have made. I love people, design and the challenges. I love seeing the smiles on my clients' faces when I have a part in making their lives a little easier and their living spaces better.
I don't have to depend on some boss allowing me to take time off to be with my kids and support their activities and I make the money I want to make doing what I love. I look forward to going to my 'office' instead of dreading it!
Debra's Staging Diva Home Staging Courses gave me the tools and insight into how to start a staging business successfully. I was able to start without going into debt and implement a sensible business model that set me up for success and not failure. My company has been in business 5 years now and I'm having my best year so far."
Don't let not having the "right" background stand in your way
If you're thinking you don't have the "right" background to run your own home staging business, consider that home stagers come from all walks of life. I'm sure if someone told Ana after her time in the US Air Force that she'd be running her own creative business decorating clients' homes to sell, transforming a TV talk show set or hosting her own AM radio show called "Your Place, Your Space Home and Garden Radio" she would have thought they were crazy!
There is no one path to get here. You absolutely need to have natural decorating talent and a desire to work towards building your own business. Knowing how to turn that talent into a money-making business is key, otherwise all you have is a creative hobby. That's the focus of the Staging Diva Home Staging Training Business Training Program.
Congratulations to Ana and the over 7,000 Staging Diva students in 21 countries learning my formula for starting and growing a staging business.
Home stagers, or soon-t0-be-stagers, please share your comments about what career you came out of before home staging, and if possible how you made the leap. I know you'll inspire others with the many possibilities they have for their own lives!
Debra Gould, The Staging Diva®
President, Voice of Possibility Group Inc.
Debra Gould has been an entrepreneur since 1989 and knows how to make money as a home stager. Author of 5 guides, and frequently profiled in the media, Debra developed the Staging Diva Training Program to teach others how to earn a living doing something they love.