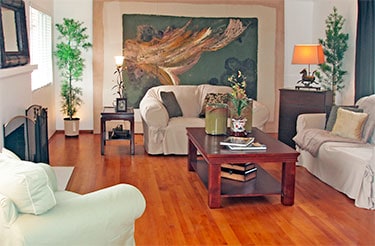 Staging Diva Graduate Saskia Vandemeulebroucke of Design Fusion shares a recent home staging job that proves home staging works.
This Chula Vista, California, home had been on the market for 60 days, without receiving a single offer.
If you've ever lived in a house while it's on the real estate market, you know how frustrating and inconvenient this can be.
To save costs, and create a large impact for her client, Saskia brought in her own original artwork. She also rearranged the furnishings as you can see from her photos of the living room transformation.
Proof Home Staging Works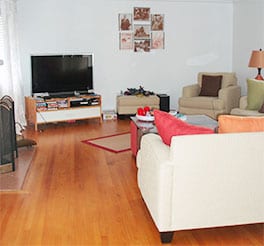 Before home staging – 60 days on the market with no offers.
After home staging – Contract signed within 14 days of staging, for $650,000. This was $20,000 above the initial asking price!
Success stories like these prove the substantial return on investment that home staging brings your clients. Never doubt what your creative talents are worth and don't be shy about asking a premium price for your services as a home stager!
Home stagers come from all different past careers and many start a home staging business on the side of their full-time job. Such is the case for Saskia. Not only is she a talented artist, she works a 50-hour week as an IKEA Manager, while building up her new home staging business.
Saskia writes, "Debra Gould has given me insight into the business and marketing side of home staging. The Staging Diva Home Staging Training Program clarified how to charge for my services without wasting my time doing free estimates or free home staging consultations! I'm looking forward to getting noticed for my talents as both an artist and a designer."
What's Your Home Staging Success Story?
Special thanks to Saskia Vandemeulebroucke for sharing her photos and details of her home staging project as an inspiration to others.
To date I've written close to 100 articles proving home staging works. I'd love to add yours to the repertoire of Staging Diva case histories that we can all use to help our clients understand the value of home staging.
Please share one of your projects, so I can help spread the word about your business, using our easy-peasy submission form here.
And don't forget, you can link to stories like these in social media like Facebook, Pinterest, etc. to help your own home staging clients understand the potential return on investment they can make in your services!
Debra Gould, The Staging Diva®
President, Six Elements Home Staging and Voice of Possibility Group Inc.
Debra Gould knows how to make money as a home stager and she developed the Staging Diva Home Staging Business Training Program to teach others how to earn a living doing what they love. There are over 10,000 students in 23 countries learning her home staging business model.