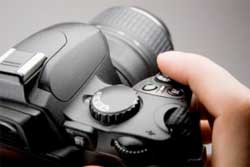 As a professional home stager you really need to invest in a good camera. Buying that important piece of equipment can be a daunting task, though, especially if you don't know much about photography.
If you're purchasing a camera primarily for taking before and after photos in your home staging business, stick with digital. Film is great for a lot of things but it doesn't make sense for before and after photos. You'll mostly be sharing your home staging portfolio over the Internet and putting photos on your website or blog so it makes more sense to take them digitally.
When you go shopping for your camera, don't go to a department store. Go to a proper camera store where that's all they sell and the people you deal with are experts in digital cameras, not washing machines and microwave ovens.
Explain to the sales person that you're a home stager and you'll be shooting home interiors so you'll need a wide angle lens to be able to capture as much of a room as possible. Tell them you won't be bringing specialty lights with you and you won't have an assistant standing there holding reflectors. Just say you need something that you, as an amateur photographer and professional home stager, can basically turn on, point and shoot.
I suggest you have a wide-angle lens that screws onto your camera rather than choosing a camera with a built in wide-angle lens.
The camera I use is a Nikon Coolpix P5100. There's most likely a newer version of it because I bought it a couple years ago. It has lots of settings I never use! I just put it on the setting with an icon of a shaky hand, the one that compensates for you if you are a little unsteady when you take your pictures.
This is only the second camera I've bought in 11 years and it only cost a couple hundred dollars so you're not talking a huge investment but it's so important to buy a good one.
You're going to be taking before and after pictures of all the properties you visit for as long as you're a home stager. You can get a good camera for a few hundred dollars and it's worth doing because that camera is what creates your portfolio that actually gets other people to hire you!
Don't cheap out on your camera purchase – it's a very important tool for stagers that you should look at as an investment. The holidays are pretty close so you might want to print this article and staple it to your wish list. Or buy yourself a camera for Christmas. Why not? You'll be able to write it off on your income tax!
>Click here for some great home staging photography tips
Stagers, what kind of camera are you using these days?
Debra Gould, The Staging Diva®
President, Six Elements Inc. Home Staging
Debra Gould knows how to make money as a home stager and she developed the Staging Diva Home Staging Business Training Program to teach others how to earn a living doing something they love. She is frequently profiled in the media for her home staging expertise and is the author of 5 guides for home stagers.