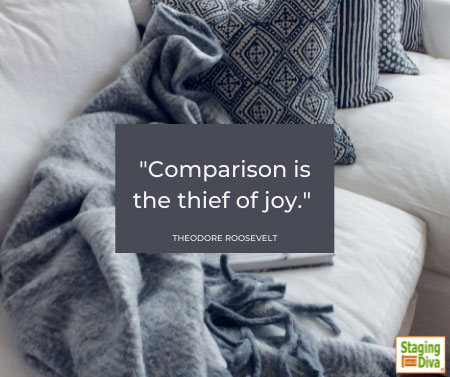 Home stagers, there are so many ways to get stuck. No matter whether you're at the beginning of your journey in home staging, or you've been at it for years.
Perhaps you've heard the Theodore Roosevelt quote, "Comparison is the thief of joy." It also comes up in no less than 11 bible verses!
As a creative person, I know how fragile our sense of our own talents can be. It's easy to fall into the confidence-killing "comparison trap".
Which is a sure fire way to stop you from turning your decorating talent into a profitable home staging career!
Here are 3 Reasons Home Stagers Get Stuck and What to Do About It
1. You're afraid you don't have enough talent to be a successful home stager.
Social media thrives on comparison. We scroll through the feeds of successful home stagers and interior designers and think, "I'd never be able to come up with a design like that!"
Listen, I do it too. Even though I've been going into people's homes and making them look better since the year 2000. 🤔
In other words, that feeling never entirely goes away. So if you're waiting to feel 100% confident in your talent before starting, you never will. It will forever be your excuse for letting your dream die, unless you decide to move forward despite that insecurity!
Here's a quick way to find out if you have enough talent to become a home stager. Take my FREE quiz here!
2. You believe your area is already filled with home stagers who have more experience than you.
A quick google search of "home staging (your city)" or "home stagers (your city)" may reveal some future "competition." That's intimidating for sure, especially if they have fabulous websites!
Some of them have been in business for years, so of course they have extensive portfolios. Some may have even appeared in the media.
New Staging Diva students worry about competition before getting through my training. And yet, once they've listened to me through the 12 hours of courses, they realize that competition is actually a proof of concept and that there's room for them too!
One of the things I'm so proud of is how many Staging Diva Grads have been on HGTV or in major newspapers after taking my program. That's because getting media attention is part of what I cover in Course 4 of the program.
My students also have an assignment for Course 1 where they contact some of their local competition. Most discover these home stagers aren't as intimidating as they imagined. Some of them are super hard to get a hold of, others can't speak confidently about what they do.
When you have the right training, you'll know how to stand out and how to present yourself confidently even before your very first project.
Regardless of other home stagers in your area, there's still room for you. I have yet to see a market that is oversaturated with home stagers.
Here's a quick way to find out whether home staging will work in your area, and whether they're still room for you. Get my FREE report here!
3. You're afraid to follow your dream so you're looking for proof that it won't work.
This is the biggie. Who isn't afraid before starting something new?
This can take the form of worrying about failing, whatever that means (I'll address that in a moment).
It can also take the form of worrying you'll be "too successful" and what that might mean for your life.
Moms, and people approaching retirement age, especially worry about too much success. That they'll get too wrapped up in being a home stager that they won't have enough time for their families. Or they won't be able to travel or spend time with friends.
One of the beautiful things about a home staging career is that you can do it on the side of another job, or while raising a family. And it's the perfect path for semi-retirement. Why? Because, unlike almost every other career you can think of, YOU are in total control of your schedule. Home stagers only need to work as hard or be as busy as they want to.
Now back to "fear of failing". It's important to identify what exactly that means for you. Does it mean you'll lose all your money? That's an especially valid concern when you're starting a business that requires a big upfront investment. Like starting a retail store, or restaurant for example.
Home staging can also be financially risky if you're buying your own furniture and accessories. That's one of the MANY reasons I teach Staging Diva students how to start and grow their business with NO overhead. Despite being a home stager for more than 2 decades, I don't even own my own accent pillows. Instead, I get paid to go shopping with my clients money.
If you want to learn more about that, sign up for my FREE course, 5 Simple Secrets to Making Money as a Home Stager.
Or does "fear of failing" take the form of worrying that you'll waste your time? Perhaps it's my age, but I like to look at things as experiments and adventures. It may not turn out exactly how I imagined, but I'll definitely learn something along the way.
You might take the Staging Diva Program, stage a couple of homes and decide you don't like it. No great loss. You'll have made back the cost of the program AND you'll know that it's not for you. Then you can put it out of your head and stop wasting more time and energy on the question, "What would it be like to be a home stager?"
On the other hand, you might discover you LOVE it and reconfirm that you were actually born to be a home stager.  How wonderful is that?
An exercise that's especially helpful when you're contemplating starting something new is to write down a list (or paragraph) that completes this thought:
"I'll know I'm a successful home stager when _____________________."
Your answer can be uniquely yours. Some examples from my students include:
I'll know I'm a successful stager when I'm:
"in total control of my schedule and I'm making enough to replace my current full time job"
"able to walk my kids to and from school everyday and have fun decorating people's homes"
"spending winters at my vacation home and earning a living when I'm back in town"
"getting emails and phone calls from clients telling me what a difference I've made in their lives"
Read Staging Diva Grad Success Stories here
It's important to focus on building a life that FEELS good to you, even if it doesn't LOOK good to everyone else. Whether that means you only stage vacant homes, or confine your practice to giving advice to home sellers working with what they already have, or a combination of both.
Whether that means you only take on the occasional home staging client, or work at it full time, again that's up to you.
So don't let comparing yourself to others be the "thief of your joy."
If your Instagram feed isn't as pretty as some home stagers, it really doesn't matter! And guess what, you don't even have to be on Instagram at all! Unless you love it.
Your home staging portfolio when you're just starting out won't be as large as someone who has been at this for awhile. All my students start out with photos from their own homes, or those of friends.
That's how I started too! And who would have imagined that within a year, newspapers and magazines would be calling me for my expertise? Or that I would have helped so many families make more money when they sold their homes, while supporting myself and raising a kid on my own?
Read how to create your home staging portfolio this weekend!
Any Comparison Is Unrealistic
Comparing where you are in Chapter 1 of your journey as a home stager to someone else's Chapter 10, will NOT build your confidence. That's why the comparison trap can be so damaging to your self esteem.
There are more than enough home staging clients out there for everyone. And you'll "click" with some potential clients that another home stager won't. We all have our own unique approach and style. There is no single perfect answer to every situation. It's all highly subjective!
I hope I've helped you recognize when you're falling into the comparison trap and given you some ways to stop "doom scrolling" as some call it. Most of your confidence will come from how you nurture it, so be very mindful of where you're putting your attention.