You're in a neighboring town running errands on a Saturday morning when you see an open house sign. You don't have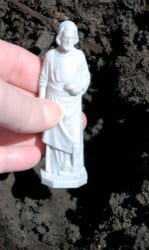 anyone with you today and you have nowhere else to be for an hour or two so you walk inside. The home is a FSBO and the hostess, the homeowner, looks very tired sitting next to her box of one dozen doughnuts.
The house is very sad. It's dark and it's vacant. All there is inside is the homeowner, a crucifix, a TV on the counter, a kitchen table and two chairs.
There are no buyers in the house and you decide you have nothing to lose so you introduce yourself to the woman and tell her you're a home stager before asking how long the house has been on the market.
The woman says, "To tell you the truth, we're at the end of our rope! We've been trying to sell for almost three years. We've dropped our price by more than $100,000 since then and we've even buried statues of St. Joseph in the yard but we still can't even get an offer."
How do you respond?
I'll share my thoughts later but first, I'd like to hear what you would do in the same situation.
Debra Gould, The Staging Diva®
President, Six Elements Inc. Home Staging
Debra Gould knows how to make money as a home stager and she developed the Staging Diva Training Program to teach others how to earn a living doing something they love.
[tags] home staging, home stager, home stagers, home staging, home staging dilemma, St. Joseph statue, buried st joseph statue, staging diva[/tags]