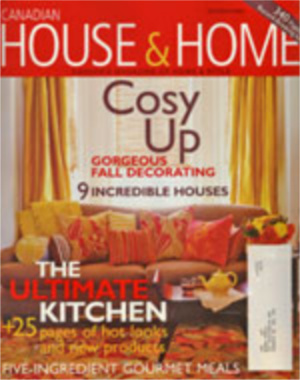 Canada's largest home decor magazine, House & Home features the Staging Diva Directory of Home Stagers in the October issue out today.
There's a fairly long feature about why staging helps a home sell more quickly and for a higher asking price with lots of before and after home staging photos.
Included is an interview with me about How to Hire a Home Stager.
Since joining the home staging industry in 2002, one of my many missions has been clearing up the existing misinformation about home staging credentials.
I firmly believe that it misleads the public when they're trying to hire someone and it misleads potential students who are duped by programs handing out fake home staging credentials.
So I'm glad House & Home Magazine included this part of our interview to help educate home sellers and their real estate agents:
"Staging is an unregulated field, so beware of anyone claiming to have 'accreditation.' Instead, review the candidate's portfolio. Some training programs hand out photos of staged rooms, so find out whether the photos you see are generic samples or reflect work the stager has actually completed."
If you're new to staging there are lots of ways to build a portfolio and credibility and I discuss these in course 2 of the Staging Diva Training Program "The Business of Home Staging: What you Need to Start and How to Grow."
For any Staging Diva Graduates listed in the Staging Diva Directory of Home Stagers, you should see increased traffic to your web page over the next 4 to 6 weeks because of this editorial coverage in House & Home Magazine.
The House & Home Magazine story advises readers:
"To find a stager, ask your real estate agent or friends for referrals. Or try the Staging Diva Directory of Home Stagers."
  Learn how to get listed in the Staging Diva Directory of Home Stagers
  Read more about Staging Diva media coverage