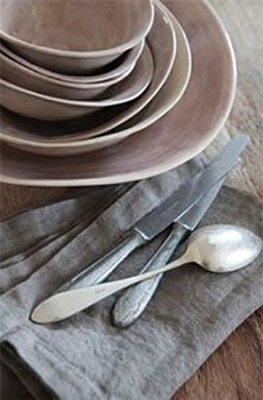 In a recent post, I discussed the 6 questions to ask before setting a table for home staging.
I also shared my own preferences and examples of when I set a table and when I don't.
If you're going to set a table for home staging, you need to do it properly.
A badly set table looks worse than one that's not set at all. Plus, it can really detract from the room.
Steps For How to Set a Table for Home Staging
The quality of your props should be appropriate to the price point and target market of the house.
Don't let the place settings be a distraction from the room itself. Remember the point of home staging is to merchandise the home. Not the contents.
Don't use gimmicks, that don't reflect how someone might actually live there. I saw charger plates filled with lentils in a 20/20 episode on home staging. It looked totally contrived. One of the techniques I dismissed in my series on silly staging tricks.
Look at photos for ideas on how to set a table properly. Here's my collection of inspiration photos on  Pinterest.
Use place mats or a table cloth. Plates usually look weird sitting directly on a wood table.
Ensure that all plates match, and that glassware is appropriate to the rest of the setting.
A table set without cutlery doesn't look right. It's also easy to steal. Be prepared for some of it to disappear while the house is on the real estate market.
Consider not laying out the place settings and instead having a stack of plates, glasses etc. in the center of the table as if a meal was about to be set up. This would only work in a more casual dining room or in the kitchen.
If the home is vacant, someone will have to keep the setting looking fresh. Layers of dust will turn off buyers or invite a low-ball offer.
I talked about the importance of setting a table properly (if you're going to set it at all) in this home staging show I did for HGTV.
Did you miss my post about why I rarely set a table when staging a home?
Find Out What Stagers Make Here
Image from the style files on Flickr