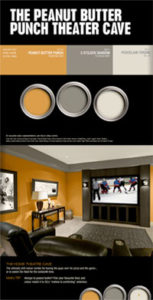 Wait until you see what paint company CIL has done to reposition their paint colors for a new audience! It's a brilliant stroke (pun intended) that I just had to bring to your attention— not only for the marketing genius of it but for the delicious visuals. Are you as passionate about color as I am? First, let's set some context as it applies to home staging marketing lessons!
If you've been following my blog, newsletter or home staging training program for any length of time, you know that I place a  very strong emphasis on the importance of marketing. Aside from the fact that I've been recognized as one of Canada's top marketing experts since the early 1990s, I'm passionate about marketing because it's THE thing that will set you apart from your competition and win you business.
To put it bluntly, it doesn't matter if you're the most talented stager in the world, if you suck at marketing you won't be in business long!
In the Simple Marketing Plan Companion: A Stress-Free Approach to Promoting Your Staging Business, I share a full analysis of how the 5 P's of Marketing must work together. These are:
Product – For home stagers, that's our staging, color consulting and redesign services.
Positioning – How you want your clients and potential clients to think of you and your company.
Pricing – How much you charge, how your pricing packages work and how you communicate about your rates.
Packaging – For home stagers, that's how you look, sound and act, plus your company name and the appearance of your business logo, cards, advertising and website. In other words, your entire business image.
Promotion – Home stagers, this includes anything you do to showcase your expertise from your website and online activities like blogging, Twitter, Facebook, etc., plus all your advertising, newsletter, brochure, special promotions, strategic donations, public speaking, public relations etc. — all the "stuff" I talk about in Course 4 of the Staging Diva Training Program.
Now to our Paint Colors Befitting a Man Cave lesson!
What a perfect example of the 5 P's of Marketing working together to bring some excitement to business category that hasn't seen much innovation (except for new finishes and formulations). CIL is a Canadian company (available through Home Depot) that decided to go after the male market. While most paint color decisions are ultimately made by women, men still have a say in mixed households and what better way to get them involved than to cater to their sensibilities and interests?
While I'm the only one making decorating decisions in my home because I'm single, I can imagine it would be much easier talking one's husband into painting a a powder room "Rust On My Truck" rather than "Classic Liberty Red." And if I were doing a Color Consultation on it's own, or as part of my home staging recommendations, I know a man would feel more comfortable agreeing to "Center Ice" rather than "Tracery," or "Iced Vodka" rather than "Cloud Nine," for the living room.
So check out the wonderful color palettes inside the CIL Ultimate Man Caves collection. And while you're there, step back and consider the marketing by noticing how they've got the product, packaging, promotion and positioning all working together so brilliantly! It's in the:
layout
photography
color selections and room choices
all the sell copy in the brochure
styling of the fonts and text
naming of the colors themselves
What do you think? Am I a total marketing and color geek to get so excited about this?
Now, think about how you market your home staging business. Are all your visual elements and your text working together to convey the right image? Please share your thoughts below.
---
Debra Gould has been writing about marketing for small businesses since the early 1990s as a frequent contributor to Profit Magazine. A home stager since 2002, she developed the Staging Diva Training Program to create opportunities for others to grow their own money-making home staging businesses. Debra is the author of several guides including: "Sales and Marketing Secrets to Boost Your Home Staging Business," "14 Marketing Ideas to Rev Up Your Home Staging Business" and the "Staging Diva Ultimate Color Guide: The Easy Way to Pick Color for Home Staging Projects." These can be found in the Staging Diva Store.