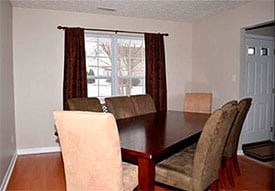 This Ohio home staging job is your chance to help a home seller who hasn't received any real estate offers despite price reductions and being on the market almost a year.
I've reviewed all the MLS photos online and I can see this is a classic example of "Do It Yourself" staging where someone has read they needed to declutter, but seemed to miss the whole idea of creating a warm and welcoming environment that buyers will fall in love with. The house looks just plain "blah" as you can see from this listing photo.
This 3 bedroom home is just over 2,000 square feet and was built in 2001. From the real estate agent listing photos it looks like all the rooms are furnished already, so you'll be working with what the client already has. I know that much of it will need to be rearranged.

All the rooms will need decorative accents
The home seller wrote me looking for a Staging Diva Graduate after her latest price drop failed to sell her Monroe Ohio home. Clearly she's frustrated by living in a house while it's on the real estate market for almost a year already.
Lina recognizes she needs a home stager's touch if she's going to sell her home soon. You'll be working for her directly rather than her real estate agent (an arrangement I always find best in my own home staging jobs).
This home staging job will make an awesome addition to your home staging portfolio and could be a terrific home staging success story to share with future clients. After all, you'd be able to talk about how long it was on the Ohio real estate market prior to staging. You can share how it wouldn't sell, even with price reductions, until you turned it around with your home staging advice!
Ohio Home Staging Job — How to Apply
Apply for this Monroe Ohio home staging job couldn't be easier. Simply complete the form at the Staging Diva Home Staging Project Referral Service. Please be sure to include "Monroe OH Home Staging Job" as the project location in the first line of the form.
This Ohio home staging job will be referred first to members of the Staging Diva Directory of Home Stagers for free. In other words, there will be no referral fee for Directory members even though we're playing "match maker" for you.
If there's not a Directory member available for this project, it will be open to any Staging Diva Graduate with a professional Internet presence. (It's difficult to convince a client to hire you if they can't review your staging portfolio, after all!)
If you get any paid work through this referral (and you're not already a Staging Diva Directory of Home Stagers member), there will be a $100 referral fee, which you can build into your home staging consultation fees. It's entirely up to you.
Are Home Staging Clients Able to Find You?
If you're not already a Staging Diva Graduate consider that just one good project would more than pay for your entire training program plus building and hosting your web page on the high-traffic Staging Diva Directory of Home Stagers for an entire year!
Unless you have more home staging projects than you can handle, what are you waiting for? Get the training and marketing you need to ensure the steady growth of your home staging business.
Debra Gould, The Staging Diva®
Staging and marketing expert Debra Gould operates the only home staging job board in the world and has a network of over 8,000 Staging Diva students in 22 countries. Come and join us!