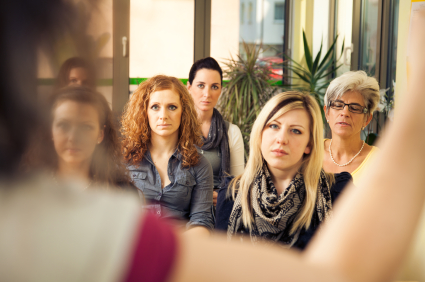 A Milwaukee realtor cancelled the guest speaker she had previously lined up for her real estate training course when she found someone better on our home stager directory: The Staging Diva Directory of Home Stagers.
Congratulations to Staging Diva Leah Fritz of Perfect Place Home Staging who spoke for two hours to a group of almost 20 real estate agents about the benefits of home staging as part of their real estate training course.
The Milwaukee Realtor group had tons of questions and Leah reports:
"Thanks to my Staging Diva Training I was able to confidently share the value of home staging with an audience eager to learn.

It was even worth the drive home to Kenosha in a snow storm!"
Leah's success story is only one of many examples of the sometimes unexpected benefits that come from joining the Staging Diva Directory of Home Stagers.
Other Staging Diva Graduates have been contacted by major media like The Wall Street Journal for interviews!
And of course there are the hundreds of staging projects that have been filled by Staging Diva Graduates throughout the US, Canada and as far away as Australia, because home sellers and real estate agents were able to find home stagers when they needed help!
Joining Our Home Stager Directory
If you're a Staging Diva Grad and you're not part of the directory, you can learn how to join the home staging directory here.
You'll notice that in addition to free home staging job referrals, you'll also get a custom brochure for your home staging company, links to all your social media accounts (as well as your own website if you have one), and a free full year membership in Staging Diva Dialog— this benefit alone is worth over $500!
Answering Real Estate Agent Questions
It's really important that when you're describing the benefits of home staging to real estate agents, you phrase everything you say in terms of what their specific needs are. Here are my answers to home staging FAQ for Realtors.