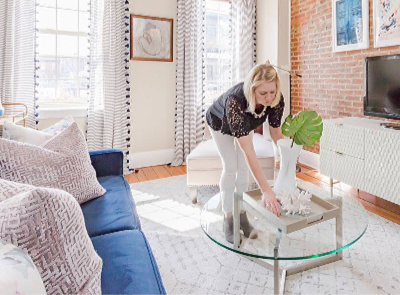 While I love hearing stories from all of my Staging Diva Graduates, the ones I enjoy most are those that come from men and women who have made drastic changes in their career to pursue their dreams.
People like Lori Fischer of Pennsylvania-based Rethink Interiors who, before becoming a home stager, worked as a Pharmaceutical Sales Representative.
Lori writes:
"I had my first staging job before I finished your  home staging courses and I had to listen to the recordings to coach me through many aspects of it–thank goodness you were here!  I successfully staged the home with your help and that of my Staging Diva Network colleagues.

Not only were the homeowners thrilled, they said that working with me was transformational. I couldn't have received a higher compliment."
From that, her first project, Lori generated four new leads – homeowners and REALTORS® – who saw her work, leading to at least one more home staging project so far.
Comments like this one from Lori make teaching home staging courses so satisfying:
"Each morning I wake up and am energized by what I am doing and what the future is going to bring. I honestly could not, and most likely, would not have made this leap to fulfill my dream had I not found the Staging Diva.

You not only provide the nuts and bolts, you also provide an incredible amount of support with coaching.

Debra, you are that voice of confidence in the moments when doubt creeps in that keeps me focused and moving forward. Thank you, thank you, thank you!"
It's no accident that Lori has had so much success with her home staging business right out of the gate!
Besides staying active on the Staging Diva Network and sopping up all the knowledge she can, Lori also launched her business with a Profile Listing in the Staging Diva Directory of Home Stagers.
That way, before she'd had time to build her own home staging website, she immediately had a way for home sellers and real estate agents to find her new business when they were searching online for a stager in her area.
She also takes time to comment on articles on this blog, Home Staging Business Report (which increases her online presence),  and she's quite actively marketing her business using Twitter.
Lori finished her note by saying:
"The Staging Diva Program has given me the road map to fulfill a dream that I have had for years but was too afraid to make happen.

Staging Diva training has given me tools to make this passion a lucrative career and at the same time provides outstanding follow-up coaching to achieve the personal growth that needed to happen for me to take this big step.

Thanks to you, I have been able to leave a decade-long career that never fit— replacing it with a passion, joy and zeal that I had craved for so long.

Debra, I really can't say enough about the absolutely incredible and generous person that you are."
Wow, thank you Lori for totally making my week with your feedback!
Readers, I too left a previous career to become a home stager. This eventually lead me to creating home staging courses for other creative types, who like myself, struggled to find a way to make money from their talents.
Perhaps you caught my recent post about working for Mad Men Before Being My Own Boss!
What career did you have before becoming a home stager, or what career are you still in while you get your staging  business established?
Please share your comments below, I love to read about the diverse backgrounds home stagers come from!