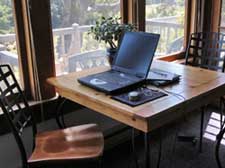 Home stagers, do you have as much trouble with getting into vacation mode as I do? Being my own boss,  there is always so much I want to learn to improve how I approach my life and work, or new marketing ideas I want to get into place for the coming season.
I feel the pull of that against my desire to also kick back and relax.
When you love what you do for a living, work doesn't feel as much like "work." So there just isn't the same need to take a "vacation" from it. This is a good thing. Who wants to go through life waiting for that magic 2 weeks a year when you can "escape"?
When I'm not stretching how I think or trying new things, I'm bored and feeling very uncreative and uninspired. I don't feel like I'm always chasing that elusive "work/life balance" because it all blends together.
As a home stager, and home staging trainer and mentor, my experience is that "work" is part of my creative life and personal growth.
While there are times I long to get out of the city and escape to a cottage on a beach somewhere, I know I'd quickly get bored "doing nothing." It wouldn't take me long to get out my journal and start brainstorming:
When I wasn't doing that or napping, swimming, or eating, I'd also be re-listening to the many courses I've taken this year on topics like: public speaking, high performance, Internet marketing, blogging, etc. I keep taking courses or joining masterminds or specialized networks because I love to learn and it gives me new material to share with the Staging Diva community inside my home staging courses, the Staging Diva Network Online Discussion Group and also our monthly Staging Diva Dialog calls which are a combination of mastermind and questions and answers.
I'm also planning on catching up on the non-fiction books piled on my nightstand during my next "vacation." Maybe I'm weird but I'm more interested in reading The War of Art: Break Through the Blocks and Win Your Inner Creative Battles
by Steven Pressfield than Fifty Shades of Grey: Book One of the Fifty Shades Trilogy
by E.L. James! By the way, my 82 year old mother just finished reading Fifty Shades while sitting in the hospital of all places. I guess it was a great distraction from the fear of being there.
I'm not saying vacations aren't important. I just think they might look/feel different when you love what you do for "work."
Home stagers how do you feel about "vacations"? Are you longing to escape what you do everyday, or do you also find that the boundaries between work and life don't have such clear distinctions anymore? What book are you planning on reading next? Please share your ideas and comments below.
Debra Gould, The Staging Diva®
Debra Gould has been a serial entrepreneur since 1989. She is president of Voice of Possibility Group Inc. with a mission of helping entrepreneurs create their ideal businesses and lifestyles.
An internationally recognized home staging expert, Debra created the Staging Diva Home Staging Business Training Program with 7,000 students in the U.S., Canada and 20 other countries. She is the author of 5 guides and appears frequently in the media.