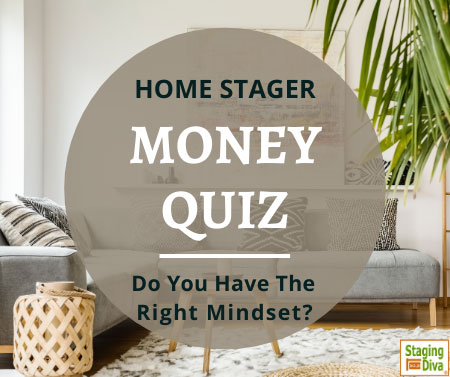 For a home stager to make money as they should, the right mindset is key.
This quick quiz will help you see if you're truly ready to make money. And more importantly, how you can improve.
Answer A, B or C to the following questions:
1. You get a referral for a home staging job in your area. The potential client has already been given your contact information. Do you:
A) Wait to hear from the potential client and assume they hired someone else if they don't contact you.
B) Wait a week to contact the client so they won't think you're too desperate.
C) Contact them immediately to introduce yourself. Then express interest in learning more about their project and how you can help them.
2. You discover there are other home stagers in your area. Do you:
A) Assume there is too much competition and give up your dreams.
B) Decide to go into business anyway. And you charge less than the competition because you're just starting out.
C) Research the number of homes for sale in your area over a year. Then evaluate whether that sounds like enough potential work for you and all the other stagers in your market.
3. You invest in your own web site or a Profile Listing in the Staging Diva Directory of Home Stagers. After less than two months, you've only had one project. Do you:
A) Decide the Internet is a bad way to promote your staging business and take down your website or Directory listing.
B) Run a newspaper ad or send door-to-door flyers instead.
C) Evaluate your online presence and determine how you can get more visitors to your website and how to convince more of them to contact you.
4. You've been a home stager for several months but you're not making as much money as you hoped.  Do you:
A) Sit at home and hope for phone calls, text messages or emails.
B) Spend hours complaining about your lack of projects and then give up on your dream.
C) Pull out your list of strategies for dealing with the "slow times" from Staging Diva Course 1. Look at your list of business building ideas from Course 2. And take action on the marketing ideas in Course 4 of the Staging Diva Program.
Are You Ready To Make Money as a Home Stager?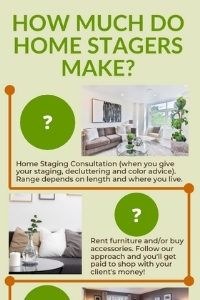 Home stager, if you have the right mindset to make money, you should have answered "C" to every question.
That's the only way you'll REALLY turn your creative decorating hobby into a lucrative home staging business.
The Staging Diva Home Staging Business Training Program gives you a proven formula to follow. When you take action, you will make money as a home stager.
A study on the characteristics of successful entrepreneurs found that one of them was a "sense of urgency around achievement."
In other words, people who are making a good living in their business don't passively wait for success.
They push past their comfort zone and take action. They treat this as a priority, not something to get around to "eventually".
Now that doesn't mean you have to cast aside "work/life balance." One of the awesome things about being a home stager is that you're in total control of your own schedule.
I started my own home staging business as a single mom and I was able to walk my daughter to and from school everyday. I also didn't work evenings and weekends.
Yet, taking action to build my home staging business was definitely a priority. That's how I was able to pay my mortgage, and stage millions of dollars worth of real estate in my first year as a home stager.