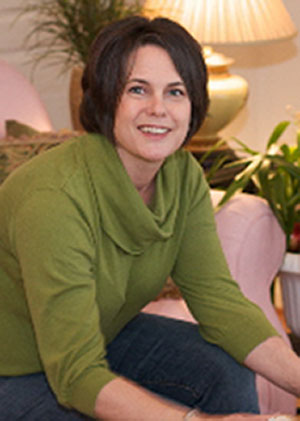 I've written about Staging Diva Graduate Holly Battaglia before. She has a very inspiring story as she manages to work over 20 hours a week as an Oncology RN on top of running her successful Maryland home staging business, Holly's Home Matters.
She's also a busy mother of four children aged 9-15! She recently wrote to share the impressive results of one of her latest home staging projects.
Proof Home Staging Works
Holly was called to do a home staging consultation on a house that had sat on the market for 7 months with 65 showings and no offers despite a $40k price drop.
The home was vacant and in poor condition with old, outdated paint colors, beat up molding and mismatched carpets.
The home was way beyond being tarted up with some new furniture and accessories.
Holly recommended fresh new paint colors, upgraded carpets and hardware, and lighting updates throughout the entire home.
She selected all the colors and finishes, carpets and new fixtures for the home.
Holly recommended painting the kitchen cabinetry a dark brown color with brushed nickel accents.
The clients didn't want to do that so they elected to spray paint the door hinges, knobs and handles. Holly notes, "I DO NOT recommend doing this – it's very labor intensive!"
On the final day of preparations, the new carpet was being installed while a buyer's agent came through early in the day to preview the home for his clients.
Before he left, he said, "this home is going to sell quickly."
The buyer's agent was right.
That evening while Holly was at the house helping to install new exterior lighting, he returned with his clients who bought the home the next day.
There wasn't even enough time to post updated listing photos online!
Holly's clients were very grateful as they'd been paying two mortgages for 7 months while waiting for the home to sell.
Imagine how much they might have made if they'd hired a home stager before dropping their asking price by $40,000! Not to mention what could have been achieved if they'd also furnished it!
About the Staging Diva Home Staging Business Training Program, Holly says,
"The business aspect of the Staging Diva Program has helped me achieve my goals by simplifying how I do business. There are tons of resources available!

Debra is a master marketer and I continue to learn more from her.

I got my very first project from my listing in the Staging Diva Directory of Home Stagers. And that first project more than paid for the training program plus my directory listing and brochure."
If you're a Staging Diva Graduate I would love to write about you too! Simply click here to submit your story idea.
You can read more about another of Holly's home staging success stories here:
Registered Nurse and Mother of 4 Finds Success in Home Staging Career