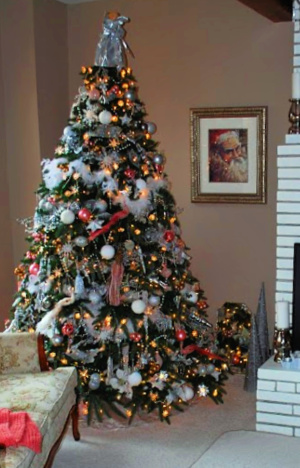 As a home stager you have many creative talents that can help you make money, especially during the holiday season when there are fewer home sellers looking for our home staging services.
Staging Diva Graduate, Monica Bunde of Create Home Staging takes her staging hat off at this time of year and promotes her services decorating for the holiday season.
For example, she just completed a holiday decorating project for a local senior's home. She says,
"A tree, a Santa's village display, exterior pillars, railings and urns were transformed into a festive winter wonderland. The seniors were so very excited, almost as excited as I was to do it … and it's those little things that just make this time of year so special."
You could call Monica an international stager as she runs her staging business in both Ontario and Michigan. This is not as uncommon as you might think!
Several Staging Diva Graduates spend part of the year in one location or travel back and forth between cities, states (and even countries), depending on the season, where other family members are, etc.
That's why when you join the Staging Diva Directory of Home Stagers, you can choose up to 4 states/provinces and 10 locations to serve.
Monica will be continuing to build her home staging business in the new year with a regular home staging column for a local news website, Today's Windsor.
This is an excellent marketing strategy for establishing yourself as a home staging expert and to have your name and company name appear more prominently in Google search results. Way to go Monica, you're off to a great start for your new business!
Have you had any success marketing your holiday decorating services? How about writing for other publications or websites? Please share you thoughts and experiences here!