After staging tens of millions of dollars worth of real estate and teaching over 800 others around the world how to start a home staging business, I have created the following list of skills and talents I feel a professional home stager should have.
I developed this list by observing my students who were the most successful in building their own real estate staging business.

1. A talent for decorating and working with color.
You should be a creative individual, have a sense of space and be visual. I am not saying you need to be a trained Interior Designer or trained Decorator to be a Home Stager.
If you have a talent for it, it comes naturally. No amount of training can substitute for raw talent.
2. An interest in real estate.
You have to love looking at homes. One of the homework assignments I give in the Staging Diva Home Staging Business Training Program is to go and visit open houses and pretend the home belongs to your client. To test your powers of observation and ability to see how things can be improved, walk through the house and think about what changes you would recommend in each room. It's an excellent way to see if you have an innate sense for home staging.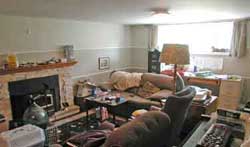 3. Organizational Skills.
You need to be very organized and be able to pay attention to detail because it is the details in the house that make a difference in a home staging project. Often times clients are emotionally attached to the house and all its possessions, and they cannot look at it with the same objective eye that a professional can.
When visiting clients' homes, you are going to walk into some of the most chaotic environments. You will be surprised at how many people live— no matter whether they are rich or poor, or the price of their house.
You have to be somebody who innately likes to create order out of chaos.


4. Work well under pressure.
You must be able to work under very tight time lines. Few people call me 6 months before they are going to sell the house. Most call me one to two weeks before they are listing their home, or when it is already on the market. That doesn't leave much time to complete the transformation.

5. Work well with others.
You need to be comfortable dealing with different types of people and with people who are often under stress, because selling a home can be very stressful. Many times, I deal with couples who are divorcing or somebody has died or somebody is getting transferred.
Part of what makes a good Home Stager is being able to walk in to any situation and calm the person down. You are bringing proven experience to the table to help the homeowners expedite the selling process. It is a valuable service to be able to help someone through this stressful situation and break it down for them into manageable chunks.
This skill also comes into play when you are coordinating the activities of painters, handymen, furniture rental companies and cleaners as I had to do for the house pictured above. This family room in the basement was completely transformed, along with the rest of the house, over a two week period.
The danger of undervaluing your natural talent
Often times, individuals take for granted the things that they just naturally do well and assume that everyone else knows how to do those things too. But they don't, as evidenced by the millions of really ugly homes for sale all over the world.
Building a business around your innate skills dramatically increases your chances of success. If you feel like you have some or all of the above-mentioned skills, use your natural talents to seize the opportunity to make a living and a life doing what you love.

Debra Gould, The Staging Diva®
President, Six Elements Inc. Home Staging
Entrepreneur and Home Staging expert Debra Gould, The Staging Diva, knows how to make money as a home stager. Discover her secrets to business success in the Staging Diva Home Staging Business Training Program.
Free quiz to see if a home staging business is right for you
[tags] home staging, home stager, home staging business, real estate staging, make money in home staging, Debra Gould, Staging Diva, advice for home stagers [/tags]