In real estate, there's nothing quite as sad as a vacant home.
When a potential buyer walks through a home with no furniture besides bare mattresses in the bedrooms, even if it's the ideal property for them, their thoughts are distracted as they wonder what caused the homeowners to leave in such a hurry.
That's one reason why home staging is so important!
Staging Diva Graduate Dolly DeWald, owner of Omaha home staging business D3 Dolly DeWald Designs, was approached by a couple who had recently moved out of town.
They knew they'd have better luck selling if their home wasn't a mish-mash of empty rooms and randomly placed remaining furniture like a couple of beds and a baby grand piano.
The homeowners agreed at their home staging consultation to clear out the clutter and take care of some cosmetic changes Dolly suggested.
While they were doing that, Dolly shopped for accessories and sourced rental furniture.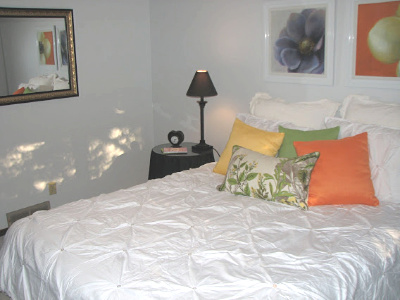 The entire home staging project took 15 hours and it was completed just in time for the homeowner's first open house.
Dolly stopped by before it started to arrange some fresh flowers (plucked from the property's gardens) and to freshen everything up.
That evening the real estate agent called Dolly with the good news that the home sold at the open house for 99% of asking!
Everyone involved was thrilled.
About her home staging training, Dolly says,
"My goal was to do something I truly enjoyed doing. I love staging homes.

I did my homework, researching various home staging courses over the past two years. Most required a monetary commitment of thousands of dollars and a time commitment of a week of travel, away from home and family in order to be a considered a qualified graduate of their program.

I knew my search was complete when I found the Staging Diva. Debra Gould spoke my language. Her realistic approach to staging, along with her approachable style sold me! The Staging Diva Program has given me the tools necessary to help me realize my goal of doing something I really enjoy. Thanks to Debra, I am well prepared as I begin my career has a home stager."