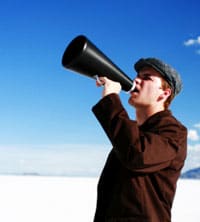 For the first time ever two media jobs have made the Worst Job list according to CareerCast.com. Newspaper reporters made the top 10 list because layoffs have meant declining salaries and more work for the remaining reporters.
They don't even mention the fact that reporters are now expected to blog, tweet and comment too. Just like the rest of us, the number of ways to communicate with our audience seems to increase exponentially, and with it the time we need to spend staying on top of it all.
At least when you're a home stager,  you get to be your own boss so when you put in increasing efforts, you make more money. When you're an employee, you just spend more time working harder— for the same, or less, money.
Broadcasters also made the list because of increasing job stress and declining incomes.
So what does this mean for home stagers hoping to get into newspaper and magazine articles or onto TV?
The easier you make if for the media to cover you, the more likely you are to get media attention. Reporters are totally pressed for time so they need shortcuts. If you have great content on line, you're likely to get quoted, even if the reporter never reaches out to you directly.
For example, I was featured prominently in an article about home staging in Australia.
I wouldn't have even known about the story if I hadn't set up Google Alerts for my name. Instead, I knew about the story within hours of it appearing online and in the newspaper, The Australian. It describes me as the "queen of home staging" and mentions that I "write endlessly on the subject."
And that's exactly my point. Because I write so much about home staging, I get noticed by reporters and broadcasters looking for information about the topic and looking for sources to quote.
You can also get on the media's radar screen by commenting on their online articles and blogs.
For example, a comment I made on an Inc. Magazine story about the founder of Shabby Chic "How I Did It: Rachel Ashwell" was later included in their print magazine in their letters to the editor section.
Before putting me in the magazine, a reporter emailed me for permission and asked how I'd like to be identified. So for a time my name and website address was not only online for Inc. Magazine, but was also included in the print edition that goes out to millions of subscribers!
Another way to catch the eye of newshound looking for a home staging resource for their latest story is by being active on Twitter.
Consider how easy it is for someone to search the term "home staging" there, or the "hashtag" #staging, #stager, or #stagers.
In doing so, with only a few clicks the media person would:
Have a handy list of people talking about those topics.
Be able to see whether they seem knowledgeable.
Have links to their blog posts and websites to find content to use for a story or determine whether the home stager is someone they want to interview.
If you're not making full use of Twitter to grow your home staging business, then you are ignoring a free and powerful home staging marketing tool.
I wrote a Twitter Guide for Home Stagers to share the strategies I use. Many readers report that this guide has helped them get clients as well as newspaper articles and form alliances with key real estate agents who then feature them in their own blogs.
> Learn more about the Staging Diva Home Stagers Guide to Twitter.
---
An internationally recognized home staging expert, Debra Gould created the Staging Diva Home Staging Business Training Program with 7,000 students in the U.S., Canada and 20 other countries. She is the author of 5 guides and has appeared on HGTV, CBS Radio, The Wall Street Journal and a host of decorating magazines in the US and Canada. Learn more about Debra's media attention and watch clips of her TV appearances.