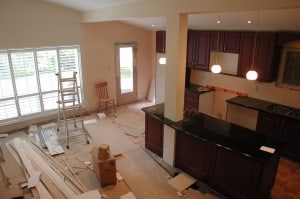 When a real estate investor sinks tens of thousands of dollars and hundreds of hours of labor into renovating a home, it's puzzling when the renos are complete and they decide to list the house before the paint has had a chance to dry!
The house will often go to market without furniture or accessories of any kind, drastically lowering it's full profit potential.
Thanks to popular television programs such as "Flip or Flop" and the multitude of similar shows a lot of people are tempted to try their own hand at house flipping. It's a great way to make some money, if you have the right home in the right neighborhood at the right time. However, many of these real estate investors miss the mark when the time comes to list the house for sale.
While much care is taken to choose the perfect new kitchen cabinets and counter tops, tile for the bathrooms and gorgeous flooring for the living room, when these homes go on the market empty, money is being left on the non-existent dining room table.

It's not just real estate investors that make this mistake.
Real estate agents and home sellers who decide to list a vacant property are also missing out on the greater profit potential they could enjoy if the empty rooms were decorated by a home stager.
Here are 5 key reasons why it's a very bad idea to put an empty home on the real estate market:
1. People buy homes, not houses. When someone walks into a big empty house, it's difficult for them to picture their lives there. An empty home can feel depressing and make prospective buyers feel melancholy rather than excited about the possibility of moving in.
2. If there isn't a point of reference such as a dining table or a sofa in a room, it's difficult for a buyer to judge the size of the space. Contrary to popular belief an empty room looks much smaller than a properly furnished one.
3. If there isn't any furniture in a space, people have trouble visualizing how their own will fit. If they aren't sure, chances are, they aren't buying. That's even more true in a slow real estate market where buyers feel no urgency to buy and there are lots of homes to look at in their price range.
4. When walking into an empty room, the potential buyers' focus goes from falling in love with the overall space to all of the small negative details that might otherwise not factor into their buying decision. A small stain on the carpet, a missing outlet cover, uneven drywall or a poorly fit molding will be magnified in the eyes of the buyer when there's nothing else to look at.
5. When a buyer is touring an empty house, or even a home with a handful of empty rooms, they become distracted. They start to wonder why the house is vacant. When they begin asking themselves whether this is a divorce situation, or a case where the vendor was forced to move quickly, they are going to jump on the idea that the seller is desperate enough to entertain a low-ball offer. Who wants that?
So after investing a significant amount of time and money into a house you plan to flip, why not spend a bit more money before listing on a home stager so your flip will sell faster for more money?
To find a home stager in your area, check out the Staging Diva Directory of Home Stagers.

Debra Gould, The Staging Diva®
President, Six Elements Inc. Home Staging
Internationally recognized home staging expert Debra Gould is president of Six Elements and creator of The Staging Diva Home Staging Business Training Program with 900+ Graduates worldwide. Debra is the author of two home staging guides and offers a Directory of Home Stagers to help homeowners and real estate agents locate home stagers who will decorate homes to sell quickly and for top dollar.
[tags]Flip or Flop, real estate, home staging, home stager, house stager, house staging, selling empty home, house flipping, house flippers, decorate to sell, Staging Diva[/tags]