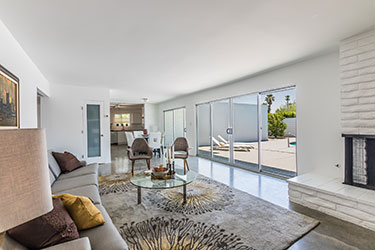 Staging Diva Graduate Rob Reinhart of Make It-Home in Palm Springs California worked for years in Sales and Merchandising in the fashion industry before turning his talents to home staging.
He took the Staging Diva Home Staging Business Training Program while working full-time, and within his first year as a home stager he was able to quit his job and do this full time.
He's got a great eye for decorating and home staging and I've loved all the projects he's shared with me so far. I appreciate Rob sending these photos (by real estate photographer Ben Vernois) of a recent architecturally noteworthy home and his home staging success story to share with you:
"I recently staged a home built by one of the famous mid-century builders in Palm Springs, Jack Meiselman. Fewer of these homes were built than the more well known Alexander Company, and so are more rare, and tend to sell for more money per square foot than a regular home of the same square footage.

Accordingly, it was priced higher at $679,000. The home stands in a great, centrally located mid-century neighborhood, and has excellent curb appeal.

The house had shown empty for close to 2 months without one offer.

With its stark white walls and cracked cement floors, the home felt cold,uninviting, and smaller than its actual 1920 sq. ft.(large for this type of home, which generally are between 1200-1500 sq ft.) Though more spacious, the semi- open main living space with 2 fireplaces felt awkward empty and confused most home shoppers trying to figure out how to use the space.

The home is in a pool-centric desert resort community.

Keeping in mind a vacation rental investor as a potential buyer, my goal was to show through playful color, decor and the right furniture placement how well the house functioned as a place to relax and socialize, both inside and out.

I wanted to nod to the mid-century roots of the home, but not make it look cliche,and also wanted to hold to the staging rule of appealing to the broadest range of buyers (thank you Staging Diva) so I scattered in iconic pieces of art, decor and furniture with mainly contemporary furniture.

I created two main social areas, one with a bar and one that could function as a "media lounge", both connected to the dining area with seating for 6-8 and the semi-open kitchen.

Outside, I wrapped a sectional sofa around the fire pit and placed comfortable loungers, a cafe table and chairs, umbrellas and bright cushions around the pool.

Now instead of being confusing, the home drew the shopper in with a welcoming and understandable flow through the rooms.

Plus it felt fun!

Once staged, the home received an accepted offer at the $679,000 asking price within a few weeks.

For comparison, about the same time, a similar mid-century home in the same neighborhood sold for $30,000 less. Plus a larger, newer 4 bed/3 bath home across the street (shown empty) sold for just $550,000.

The Staging Diva Program is very well organized and explains in the most straightforward terms how to set up your business, maintain and grow it.

The trick is to follow Debra's advice and instruction, because it really is helpful and has allowed me to start a second career doing something I probably should have been doing all along! I also really appreciate Debra's ongoing support through her Staging Diva Dialog monthly coaching calls, which I think of as 'the water cooler for home stagers'!"
Please join me in congratulating Rob on this gorgeous home staging and the result he got for his client. Remember the house had sat on the market vacant for 2 months before home staging made all the difference!
More photos of this property can be found at Realtor.com.
Do you have an interesting staging success story to share? Please let me know by filling out this online form and perhaps I'll feature your business in an upcoming post!
Debra Gould, The Staging Diva®
A home stager since 2002, Debra Gould created the Staging Diva Home Staging Business Training Program in 2005 to help others make a living from their creativity. Debra is the author of 5 guides including the Staging Diva Ultimate Design Guide: Home Staging Tips, Tricks and Floor Plans.