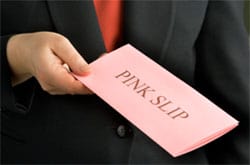 All you have to do is turn on the news to know there's no such thing as job security anymore. Even if you currently have a job, it's not a bad idea to set up a business on the side!
Home staging offers the flexibility to do that so you're no longer completely dependent on your employer, and if your job suddenly evaporates, you can put all your energy into growing the business you've already started.
Owning a business offers much more security than being employed by someone else.
The best part of starting your own home staging business during a recession is that you will have greater control over your future because you won't be dependent on a single company to pay your way.
If you think a full-time job is a secure way to generate an income, remember that the U.S. economy lost 2.5 million jobs in 2008, and the losses for the early part of 2009 have been devastating. A similar, though less dramatic, scenario exists in Canada and in most countries today.
Why would you pin all your hopes and financial security on being employed rather than investing in charting your own course as an entrepreneur?
For more information on how you can create your own opportunities in this depressed economy, check out my free report "Ask Staging Diva: Can I grow a home staging business in a depressed economy?"
Debra Gould, The Staging Diva®
President, Six Elements Inc. Home Staging
Debra Gould developed the Staging Diva Training Program to create opportunities for others to grow their own profitable home staging businesses. There are currently over 1000 Staging Diva Graduates around the world. Debra encourages anyone concerned about starting or growing a home staging business in today's economy to download her free special report: "Ask Staging Diva: Can I grow a home staging business in a depressed economy?"
[tags] Debra Gould, Staging Diva, home stagers, home staging, home staging in a depressed economy, starting a home staging business[/tags]