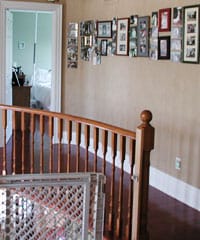 One of the most important aspects of home staging is depersonalizing a property. That's because when you depersonalize a house, you help a potential buyer imagine themselves living there instead of wondering about the current owners and why they might be leaving.
For example, if you have a wall full of family photos in the hall, anyone there for a showing is going to be distracted looking at baby pictures and wedding photos and imagining the current owners' lives spent in that home.
Let's face it, people are nosy!
Share too much and they'll be distracted by the personal details instead of taking in the space. Every minute spent gazing at the people in the wedding photos is a minute not spent looking at the home or imagining how they'll have the whole family over there next Christmas.
Another reason to depersonalize a home is to help protect the homeowners. Displaying information like where a child plays soccer and their name (like on a trophy for example), or the family calendar so that anyone can see the normal comings and goings of the family,
give predators and burglars enough information to cause a lot of harm.
It's not always easy to strike the right balance between making a space depersonalized and making it feel warm and inviting.
In fact, I've visited many poorly staged homes that are so depersonalized they actually look like the burglars have already been there! You need to keep warm and inviting details that hint at what life can be like inside this home, without the personal items that turn off or distract buyers.
>There is a lot of information on this topic in the "Staging Diva Ultimate Design Guide: Home staging tips, tricks and floor plans"

>For further help understanding what it means to de-personalize a space for the purpose of home staging, visit the Home Staging Glossary by Staging Diva.
Readers, what other depersonalizing tips and techniques do you use?
Debra Gould, The Staging Diva®
President, Six Elements Inc. Home Staging
Entrepreneur and Home Staging expert Debra Gould, The Staging Diva, knows how to make money as a home stager. Discover her secrets to business success in the Staging Diva Home Staging Business Training Program. Besides the Staging Diva Ultimate Design Guide, Gould has also authored a Color Guide, Twitter Guide and Portfolio Guide specifically for Home Stagers.