Before finally hiring Staging Diva Graduate Fabia MacNair, a desperate house seller had accepted an offer of $250,000 for her home knowing it was worth more. She wasn't interested in doing the work needed to complete the home staging to-do list, however, because she just wanted to sell. Fabia hated that her hands were tied and the seller was losing so much equity for the sake of a little elbow grease. But nothing could be done with a signed offer and a date with the lawyers.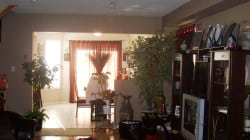 In an odd twist of fate, the deal fell through and as soon as she left the lawyer's office, the homeowner called Styling Spaces.
The homeowner took down notes during her two-hour consultation with Fabia and followed her advice to the letter doing a clean-up and making repairs. Fabia helped choose the renal furniture and prepare the home for showings. The work was done two weeks after the original deal fell through.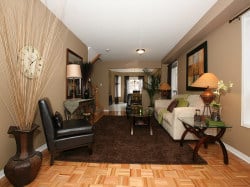 After the first open house, the home sold for $330,000 after an investment of less than $6000!  Remember this house seller originally accepted $250,000. So that's an extra $80,000 after spending $6,000. I've always said home staging is one of the few legal ways to see such a quick return on an investment, especially when you consider what's happening on the stock market.
The homeowner was obviously thrilled and now Fabia has this glowing testimonial to use in her marketing, "We were ready to sell the house, as is, because we didn't want to spend the time or the money fixing it. When the deal fell through I invited Fabia over to see what needed to be done so that I could make my proper profit. My sister and I did as Fabia suggested and with two weeks work, in between my full time job, we went through the home staging to-do list and made all the design and redesign changes. I spent about $6000 on construction materials, furniture rental and her fees. I had doubts about putting in the amount of work that Fabia said I should, but when it was done, it sold on the first day. I'd have to work two years to make profits like that!"
If you're a Staging Diva Graduate with your own story proving home staging works, send me some information so I can write about you. I've made it super easy, all you have to do is visit this link and plug in your news. I'll turn it into a story like this that you can use in your marketing!
Debra Gould, The Staging Diva®
President, Six Elements Inc. Home Staging
Debra Gould knows the key to success in business is in how you market it. She's taught thousands of people around the globe how to make money using their natural creative talent as home stagers through the Staging Diva Home Staging Business Training Program.
[tags]home stager, home staging, fabia macnair, staging diva, home staging success story, home staging program, staging diva graduate, home staging course[/tags]