You're just getting established in your home staging career with only a couple of projects under your belt but with each passing day you're feeling more confident in your skills and the expertise you have to offer homeowners.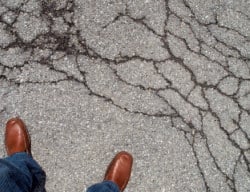 You find yourself one Saturday morning doing a home staging consultation with a sweet young couple. They're expecting their first child in a matter of weeks and they're hoping for a fast sale on the tiny one bedroom home they've had on the market for six months with no offers.
They have a limited budget and although the home is in good shape overall, the paved driveway is all ripped apart after a particularly harsh winter.
The yard is covered in pieces of asphalt and it's obvious that the driveway
needs to have the existing pavement removed and new pavement put down. Also, inside the house the second bathroom is an absolute eyesore and needs a full reno.
They know from feedback they've gotten from their agent and people who have viewed their property that both are sore spots but they only have funds to repair one or the other since each project will cost approximately $5000 to undertake.
What is your expert home stager's opinion in this scenario? I'll share my thoughts later but first, I'd like to hear what you would do in the same situation. Do you believe the second bath is more important to romance the buyer once they're inside, or should the driveway which leaves the first and last impression be the element to repair?
Debra Gould, The Staging Diva®
President, Six Elements Inc. Home Staging
Debra Gould knows how to make money as a home stager and she developed the Staging Diva Training Program to teach others how to earn a living doing something they love.
[tags] home staging, home stager, home stagers, home staging, home staging consultation, home staging dilemma, home staging priority, staging diva[/tags]