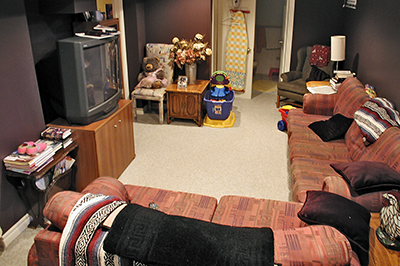 Many new and aspiring home stagers worry they won't really know what to recommend to their clients once they get into a home staging consultation.
If you have a natural talent for decorating, though, this is nothing more than an irrational fear.
When you get into a home and start looking around, you'll instinctively know what to do to improve the way the house shows.
One of my favorite things about being a home stager is that I get to use my creativity everyday because as a stager you're constantly being forced to think on your feet and work with what you have at your disposal.
That's why home staging is such an attractive career choice for people with a great talent for decorating who feel like their creativity is being wasted in their current job.
To prove to yourself that you have the decorating talent you need to be a successful home stager, take a good look at the picture above of a typical basement family room. Think about what you would recommend your clients do with a space like this and add your own comment to this post with your staging ideas.
I'll share my own observations in a post next week but in the meantime please share your own home staging recommendations by leaving a comment!
Learn More About Design For Home Staging
Learn more about design for home staging in the Staging Diva Ultimate Design Guide: Home Staging Tips, Tricks and Floor Plans. In this comprehensive guide, I take you through each and every space in a home offering my best staging advice, complete with before and after photos from my own projects and accompanying floor plans.