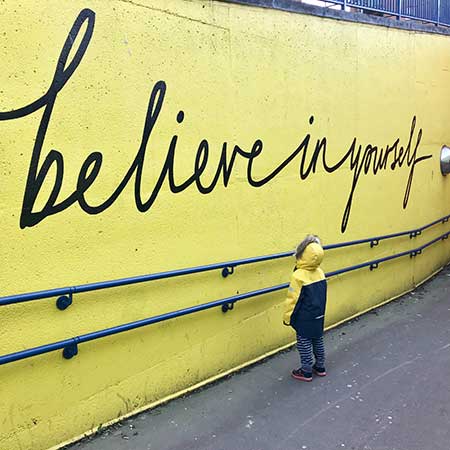 Are you walking around with a destructive label inside your head that determines the choices you make and how you live your life?
This week I met "Cynthia" (not her real name) by phone. She has been dabbling at being a home stager.
"Dabbling" because she's done a few free projects for friends.
Cynthia has spent money advertising her staging business, and she's never had a paying client to show for it.
In other words, she's lost money on this idea and is NO closer to figuring out how to make being a home stager work for her!
She told me about how she has always loved decorating. That people have been telling her for years that she has God-given talent.
Cynthia has never used her decorating talent to earn a living before.
She's 49 years old. Her kids are self-sufficient and she really wants to create a real business. She imagined that home staging would be her calling— except that right now she can't seem to make money at it.
"I really need your staging business training," she said. "But I never follow through on anything so I'm afraid to invest in your courses."
After more discussion it turned out that she felt she "never follows through" because she did nothing with the medical transcription training she's already taken. And she gave up a multi-level marketing (MLM) business selling weight loss products.
No surprise, she hated hassling friends, family, and anyone else she ran into to, to buy products.
Personally I could relate. How about you?
I'd be hard-pressed to think of a less creative way to make a living than medical transcription! And, I've never been interested in MLM, because I hate hard-selling and cold calls (home staging requires neither of these).
My Conversation With Cynthia The Home Stager Continued
"Can you see any similarities in the two previous career ideas you haven't followed through on?" I asked.
"I wasn't passionate about either of them," Cynthia replied.
So I asked her how her life might be different if she had a formula to follow to make money from her passion for decorating and whether she thought that would hold her interest so she could follow through.
After some additional discussion about what it's like being a home stager, she decided to order the Staging Diva Home Staging Business Training Program.
The next morning, she left a message asking whether it was true that I offer a money-back guarantee (I do). Within 2 days (even before her program arrived in the mail), she asked for a refund.
Apparently she discussed it with her friends and everyone said, "Why did you order that? You never follow through on anything!"
I have no problem giving Cynthia her money back because I only want happy students who plan on taking action with the training they receive from me.
What breaks my heart about her story is that she's lived DOWN to her friends' expectations, rather than standing in her own power and moving forward with what she wants to do!
As a person who "never follows through," she couldn't allow herself to follow through on listening to the training program.
She could have listened to the entire Staging Diva program over a day or two in the comfort of her own home.
Then she could have started implementing the many ways she would have learned to turn her staging hobby into an actual money-making business for an entire month before deciding if she wanted to keep it!
But she didn't. She closed off that possibility while the training package is still in the mail on its way to her door.
You see the labels we give ourselves (or empower others to give to us), are something we live into.
If you walk around telling yourself any of the following, you'll find them to be true:
I never follow through on anything.
I'm not smart enough to have my own staging business.
No one will ever pay me for my decorating talents.
I can't be a home stager unless I lose weight.
What negative thought or label are you walking around with?
Pull out a journal or a piece of paper and write it down so you can see how harsh and unproductive it is!
After you write the negative thought, list 3 pieces of evidence that it's not actually true, then let it go so you can embrace all the joys and new experiences that lie before you!
Seriously, play along with me here. I know you'll find that negativity loosen its hold on you AND you'll inspire and empower others too!
Photo by Katrina Wright