There are several traits that set entrepreneurs apart from those who live their lives aspiring to be entrepreneurs. Many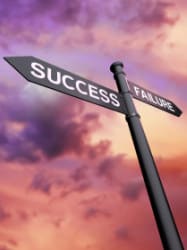 of the most important characteristics  have nothing to do with business acumen or working capital.
I believe what defines those of us who go ahead and step into the unknown of self-employment is:
Belief in our talents
Passion for what we do
Willingness to step outside our comfort zone even if that means making mistakes along the way
Commitment to not settle for the "same old, same old."
On Monday I shared a quote about the need for new home stagers to push past their uncertainties and move forward in their staging business, even if that meant making some mistakes along the way.
Leah Fritz of Perfect Place Home Staging demonstrated her entrepreneurial mindset nicely in her comment on the last post by saying, "One thing that is nice about starting a home staging business is you don't have to mortgage the farm to do it. Yes, you have to pull the trigger and commit to a forward moving process, but it can be done (successfully) with baby steps. If you do your research, think before you act, and invest a predetermined start-up budget wisely, the uncertainties won't be keeping you up at night."
Leah continues, "It may sound crazy but I made room in my business plan for MISTAKES. I feel mistakes are part of the process and an opportunity to learn. If I decided to close up shop tomorrow (which I'm not) I certainly wouldn't consider it a failure. My staging business has enriched me as a person, and has taught me life lessons that I'll be drawing from for the rest of my life. How can that be called failure?"
A fear of stepping into the unknown isn't the only thing holding aspiring home stagers back from following their dreams. Other comments to my last post mentioned "paralysis by analysis," wanting everything to be perfect before they started and taking a year planning their staging business without actually getting going and starting it!
I'm a recovering perfectionist so I know what they're saying. I'm also a big researcher who likes to look into everything and know lots about a subject before moving forward.
Around when I turned 40, I realized that both of these were really procrastination tactics which were standing in the way of living my life's purpose and having true satisfaction. I wasted 20 years of my life being "stuck" in careers or jobs I didn't like because I hadn't figured that out!
Why do we procrastinate when we actually know what we're meant to do?
Because we're scared of changing the status quo, the "same old, same old". That's normal but at some point you've got to ask yourself, "Do I actually want to do this or don't I?"
If you do, then get going and do something rather than continuing to read, plan and dream about it.
If you don't, then let it go and never give it a second thought. Put your energies instead on the next idea that is something you really want to do.

Just don't waste your life sitting on the fence because it will never get you anywhere!
Nothing will ever be "perfect" and you will never have "all" the answers. At some point anyone who has ever started a business just accepts that reality.
One common scenario I hear about is not having the support from a spouse to step out and follow a dream. Sometimes it's not a spouse, but a grown child or a close friend who doesn't feel that starting a home staging business in this economy is a wise thing to do, or they aren't familiar enough with the industry to get behind the idea.
My first piece of advice would be to ask yourself if you really need someone else's permission to follow your own dream. If you do, I encourage you to download my latest free report:
Ask Staging Diva: Can a regular person like me become a successful home stager?
Once you've downloaded it, print it off and read it right away. Then, give it to the nay-sayer in your life and if this doesn't make a believer out of them then nothing will!
Aspiring home stagers, I want you to ask yourself a simple question:
What's the worst thing that could happen if you enrolled in a home staging training program and started your own business?
Think about it. The worst thing that could possibly happen is that it wouldn't work and you'd be out your start up costs and the cost of the program which would be somewhere around the $1500 mark in total. That's not a significant investment in the overall scheme of things, especially when you consider the feeling you will have just knowing that you took the risk and refused to settle for a life of "same old, same old" even if it wasn't making you happy. Because no matter what happens, you'll be able to take that lesson with you through the rest of your life in whatever you do.
Home stagers, did you struggle with feelings of fear as you were deciding whether or not you would start a home staging business? How did you overcome it? Please share your experiences by leaving a comment below.
Debra Gould, The Staging Diva®
President, Six Elements Home Staging
Debra Gould knows how to make money as a home stager and she developed the Staging Diva Home Staging Business Training Program to teach others how to earn a living doing something they love.