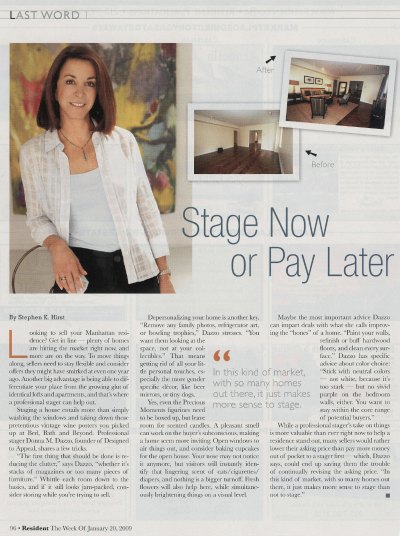 Staging Diva Graduate Donna Dazzo of Designed to Appeal has been grabbing quite a lot of media attention recently in New York.
And it's no wonder! Her home staging projects are fabulous and she's invested time and energy into promoting her business in a professional way.
Not long after Donna completed the Staging Diva Home Staging Training Program, she got my attention with how quickly she joined the Staging Diva Directory of Home Stagers with a very professional photo of herself and great staging shots.
This was followed by sending me frequent updates about her company and projects so I could write about her (an invitation I give to all Staging Diva Graduates, but many never get around to following through on this).
Donna's most recent media coverage includes a feature in New York Resident Magazine, distributed to Manhattan doorman residential buildings, at various retail outlets such as Barnes & Noble and Starbucks, and to transportation hubs such as Grand Central and Penn Stations.
Donna was also featured in short TV segment on home staging for New York 1's Real Estate Report. The spot aired multiple times over a January weekend and showcased Donna's knowledge about the benefits of home staging.
A veteran of more than 25 years in the financial services sector, this talented stager has totally reinvented herself over the past year. As a teacher and mentor, it's been my absolute pleasure to watch! She keeps me inspired to continuing doing what I do!
In fact, I'll be writing a blog post this Wednesday about the power of following our dreams and coming into our own.