Staging Diva Graduate Lavonne Clifford spent years focused on others as a dedicated mother and full-time volunteer. Now that her children are
in high school, though, Lavonne is focusing on her career as owner of Atlanta-based Big Dog Staging.
Lavonne wrote to tell me about one of her most impressive home staging success stories which actually took place before she knew staging existed – while selling her own home. (This probably sounds familiar to many of you!)
When Lavonne was speaking to real estate agents to price her home in Kennesaw, Georgia, they all told her she couldn't expect to get more than $330,000 for it. After she staged her house, it was listed for $350,000 and it sold in less than 10 days in a multiple offer situation, eventually selling for $365,000.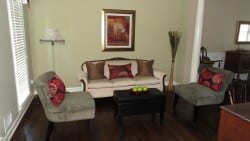 Lavonne says, "Our real estate market is horrendous. A local real estate agent called me last week thanking me for the best neighborhood comp in over a year. As one agent put it, 'I see 100's of houses but every year there are one or two that take your breath away.' I always strive for that 'take your breath away' feel. It sells houses!"
About the home staging training Lavonne received from Staging Diva, she says, "The program helped me set some goals which is the first step towards achieving them. Baby steps!"
Like Lavonne, have you been staging homes since before you knew what home staging even was? If so, please leave a comment and tell us about your experiences!
Debra Gould, The Staging Diva®
President, Six Elements Inc. Home Staging
Debra Gould has been building her own websites since 1999. She knows how to make money as a home stager and she developed the Staging Diva Home Staging Business Training Program to teach others how to earn a living doing something they love. There are more than 4000 Staging Diva Students in the U.S., Canada and 20 other countries. Debra is frequently profiled in the media for her home staging expertise and is the author of 5 guides for home stagers.