Even though most of us hang on to as much summer as we can, as soon as the calendar changes from July to August the department stores want us in 'back-to-school' mode. With school-aged children, besides dreading another year of packing lunches, you've probably already started to think about what they will need in the way of clothes, shoes and school supplies this year.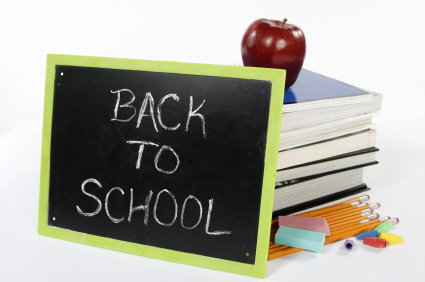 Over the next couple of weeks, you'll spend countless hours preparing your children for the new school year – but what are you doing this September? Are you yourself ready for a change? Do you find yourself paying extra close attention to those decorating shows you love as the summer winds down? Have you almost made up your mind that this could be the year you turn your love for decorating into a career?
Because most people associate September with the start of a fresh new school year, it's only natural for many of us feel the itch to do something new this time of year. September symbolizes change, the first page of a brand new scribbler, setting goals and learning something new. If you are one of those mothers who have been waiting until all of your children were in school to reenter the workforce, has that time finally come?
It seems logical to wait until there are teachers looking after your children all day before you go searching for employment, but it can be difficult to go back to work for someone else after an extended time of being a stay-at-home-mom. You will probably find it tough to adjust to the inflexibility of a traditional job if you've been lucky enough to have had the freedom of staying home to raise children for five or six years.
Many mothers looking for a temporary escape from domesticity and a way to contribute to the family income realize they still want the freedom to be home when their children need them. If this sounds like you, the perfect solution is to start a home-based business that will be profitable while allowing you the flexibility to set your own hours.
If you spend your evenings curled up with HGTV and have friends and family members always coming to you for decorating advice, Home Staging is the ideal career for you.
A home staging or 'house fluffing' business can be based from your home, and you can set your appointments around your family's busy schedule. You don't need any special certifications or a background in interior design to be a home stager. If you have a natural talent for arranging a room, you can stage homes to sell quickly and for top dollar.
The Staging Diva Training Program will teach you everything you need to know to start and grow your own successful home staging business.
As you think about preparing your children for the new school year, think about how great it would feel to do something for yourself this fall. You deserve it.

Debra Gould, The Staging Diva®
President, Six Elements Inc. Home Staging
Internationally recognized home staging expert Debra Gould, president of Six Elements and creator of The Staging Diva Home Staging Business Training Program with 900+ Graduates worldwide. Debra is the author of two home staging guides and offers a Directory of Home Stagers to help homeowners and real estate agents locate home stagers who will decorate homes to sell quickly and for top dollar. To learn more visit https://www.stagingdiva.com.
[tags]home stager, home staging, home staging business, back to school career change, home based business idea, home staging training, HGTV, home staging training program, Staging Diva[/tags]