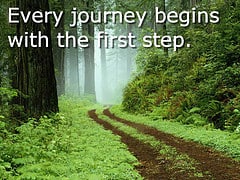 The other day I found myself pondering the "why" of my career as a professional home stager, and teacher, coach and mentor to thousands of other home stagers.
Whether you're doing what you've always dreamed of doing or you're "stuck" in a desk job you feel you can't escape from, there is something that drives you to keep going (and it shouldn't just be a pay check).
Everything I do, for example, is grounded in my belief that one's "work" should be a natural extension of one's interests, talents and passions. Work should not be something we need to escape from, as in, "Thank God it's Friday!"
I believe that "work" should actually be the thing that helps us feel truly alive and engaged, and that's exactly what happens when you start following your passion.
Each one of us is capable of making money and helping others with our own unique God-given talents if we approach it in the right way. In the second sentence of this post, I put the word stuck in quotation marks. I did that because I don't think anyone is ever really stuck doing something.
We're each in control of the path our lives take. We make hundreds of choices every week about how we will spend our time, attention and money: what we will read, who we will listen to, whether we'll push ourselves to try something new or settle back on the couch for another TV show, whether we'll buy a new object we don't really need or invest in our knowledge or our business, whether we'll put up with that boss, friend or spouse who sucks the joy out of our lives or whether we'll take a stand, etc. It's all about what you choose and please know that "doing nothing" is also a choice because by definition you're choosing "no" for the path you might have chosen instead.
You might be thinking, "Oh easy for her to say we all have choices, she's lucky enough to be doing what she wants to be doing with her life, working as a home stager," but luck has nothing to do with it. I didn't always have this life, I created it. I didn't always have money, I earned it.
I refuse to believe that there are only a handful of people in this world destined to live the life of their dreams. I think each of us has the potential in us to get to that place and the biggest thing stopping us from getting there is our own mindset.
I created the Staging Diva line of home staging training products to help you, as an aspiring (or struggling) home stager, to reach success faster, with less struggle and with more confidence than you've ever had before.
My sincere hope is that you will get to a place where you no longer "have to go to work" but you "get to go to work"  and see it as a joy and a natural extension of who you really are. One little word makes one big difference!
Do you know the "why" of what you do? Home stagers, what helped you push forward with your dream of starting a staging business?
Debra Gould, The Staging Diva®
President, Six Elements Inc. Home Staging
Debra Gould has been self-employed since 1989 and reinvented her career many times to suit her interests and passions. She knows how to make money as a home stager and she developed the Staging Diva Home Staging Business Training Program to teach others how to earn a living doing something they love. There are more than 4000 Staging Diva Students in the U.S., Canada and 20 other countries. Debra is frequently profiled in the media for her home staging expertise and is the author of 5 guides for home stagers.
Photo Credit: Melody Campbell